How to use your best asset to identify the right career progression opportunities for your people
This card aims to draw out the best ways for you to help your managers have meaningful career conversations with their team members. And we're sure your first reflex will be to name all the training courses and programmes available to your managerial staff within your L&D toolkit. But guiding managers is more than just investing in the usual formal leadership programmes, policies and procedures. It's about taking time to give them feedback, listening to their needs and ultimately, showcasing the kind of skills & behaviours they will in turn need to display.
Some would even argue that providing regular informal growth feedback may be more effective than formal training. After all, managers are also employees, and they may learn best by seeing first-hand the kind of conversations they need to have with their people modeled during their own career discussions. Taking time to map out their particular strengths and career ambitions will ensure they are able to repeat the exercise with their people, and view talent management as an important part of their role. It's not to say that formal manager training isn't useful. But we hope this card helps you add a few strings to your bow.
So this question may be more about finding out whether your leadership team is showing the kind of example managers can in turn follow, rather than adding more training courses to your library. This should positively impact your retention rates, help you set internal mobility opportunities and determine whether you have the right people on your bench or need to bring in external talent. If you'd like inspiration about having meaningful career conversations, have a look at our Virtual Career Sprints here.
And watch out for the next blog in this series on using our card deck.
Career Coaching Cards: Explained
This is a new series of blog posts, that explain our Career Coaching cards in more depth.
Our deck of cards contain 52 questions that help guide better career conversations and connect more with the individuals you're having these conversations with. Each week we are releasing a question from our deck with a little more information about why we think this question is a good question and what you are looking to get out of it when you ask it.
Career Sprints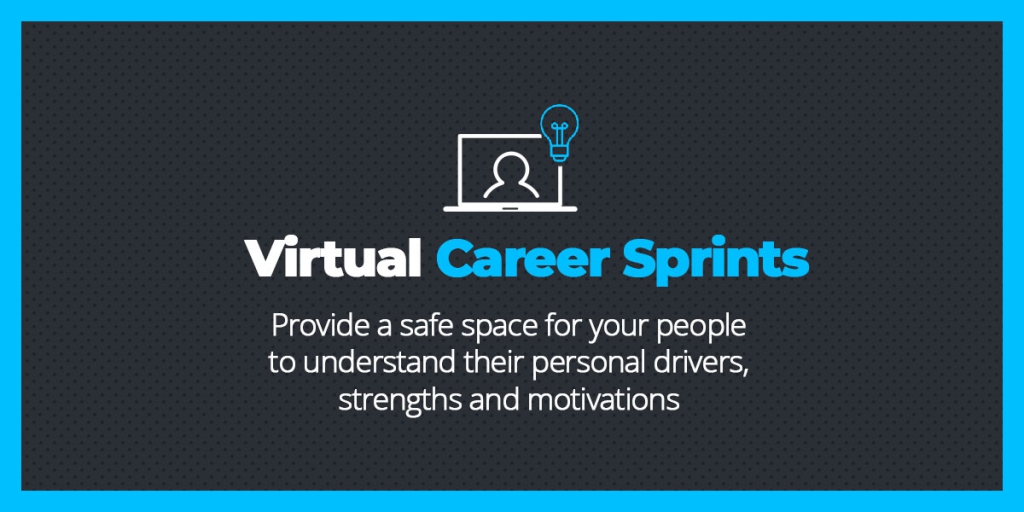 Developing your employees is not only building the workforce you'll need post-pandemic, but also supporting the current wellbeing and development of your employees. Keeping your workforce engaged and developing during these difficult times is a key element to your business success during the current and future environments.
Now is the time to offer more significant career development that supports and encourages your people to explore a variety of career opportunities in your organisation, rather than just one.