Making sure you are equipped to have informed career progression discussions
Here, proactivity comes in the shape of education and knowledge. And by that we mean that managers should be aware and informed of the opportunities available within their organisations, and ensure they bring those up with staff on a regular basis in order to help people understand the many options to choose from when it comes to reaching their professional goals. So the real question is, are you having those kinds of career conversations organically and proactively with your people? If not, you may need to go back to the drawing board and connect with your HR team. And once you have the information you need, find time and space to focus on having proactive career development conversations with your people, as this is one of the most important tasks on a leader's to-do list.
We understand that some of you may be leading very big teams and meeting with each individual regularly could be quite time-consuming. Easy peasy: empower your team leaders. Role model what you expect from them by helping them enhance their own careers, and encourage them to do the same with their direct reports. Career development should start at the top and trickle down. Although it can sometimes get stuck, so if you or one of your team leaders need some development in that area, reach out to your HR department, be open to learning new ways of guiding your staff and ask for some coaching.
And remember that opportunities come in all shapes and forms. Think of development creatively: set stretching goals for your team, involve individuals in a new project or give a promising person the opportunity to line manage someone.
When it comes to career progression, both formal and informal training have their purpose and giving your staff a say in how to take charge of their career goals will ensure they feel engaged in the process.
If you'd like any additional support, have a look at our Let's Talk Talent Career Sprints for our take on management essentials.
And make sure you stay tuned for more tips on how to generate motivation around career development, both for yourself and others.
Career Coaching Cards: Explained
This is a new series of blog posts, that explain our Career Coaching cards in more depth.
Our deck of cards contain 52 questions that help guide better career conversations and connect more with the individuals you're having these conversations with. Each week we are releasing a question from our deck with a little more information about why we think this question is a good question and what you are looking to get out of it when you ask it.
Career Sprints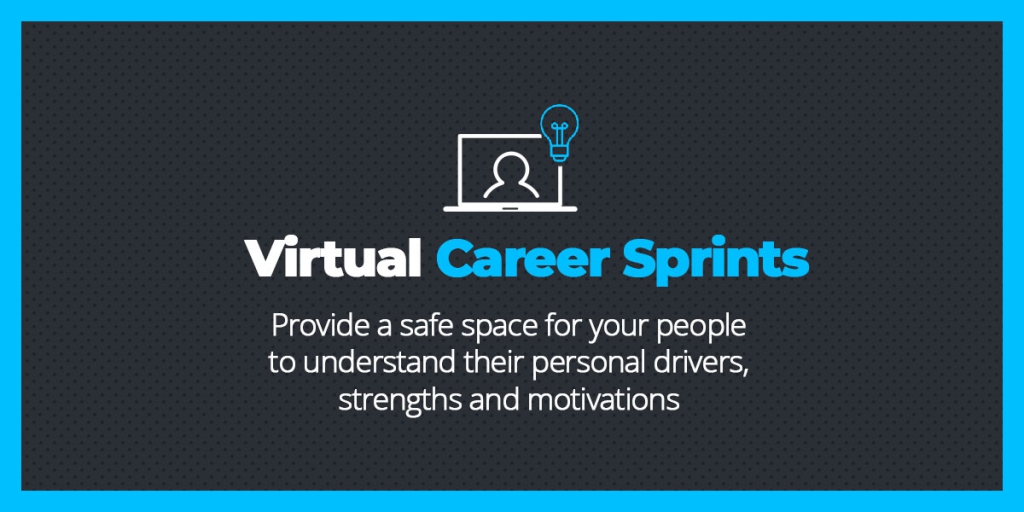 Developing your employees is not only building the workforce you'll need post-pandemic, but also supporting the current wellbeing and development of your employees. Keeping your workforce engaged and developing during these difficult times is a key element to your business success during the current and future environments.
Now is the time to offer more significant career development that supports and encourages your people to explore a variety of career opportunities in your organisation, rather than just one.