How to give your people the support they need to take charge of their career
If you know us, you know we're fans of the 70 / 20 / 10 ratio when it comes to career development.
70% Led by the individual
20% Supported by manager
10% Backed by the organisation
When it comes to career development, we believe the onus is on the individual to do most of the work. But this doesn't mean they should just be left to it. Your organisation has a role to play, and so does your managerial staff. Empowerment doesn't just happen overnight: some basic foundations need to be in place.
Managers are a key part of the career progression journey. They will be the link between individuals and their career ambitions, and the available opportunities within the organisation. Ask yourself: are your managers making time to have career conversations with their staff members? Are they aware of the possibilities available within the company? And are they equipped to turn initial career discussions into concrete development plans?
And what is the role of your organisation you ask? Opportunities for progression should be available, of course. But they should also be clear and transparent for all to see. Are your jobs, programmes and internal mobility postings advertised internally? Is it easy to determine who those are aimed at?
Whilst your people will be the ones setting off on the hike to the top of the mountain, it helps to have a clearly defined path and a couple of signposts to let them know they are going the right way.
If you'd like to know more about the 70/20/10 ratio or if you want to hone in your career development knowledge, download our brand-new and hot-off-the-press career development whitepaper here.
Keep your eyes peeled for the next blog in our series on how to get the most out of our career coaching card deck.
Career Coaching Cards: Explained
This is a new series of blog posts, that explain our Career Coaching cards in more depth.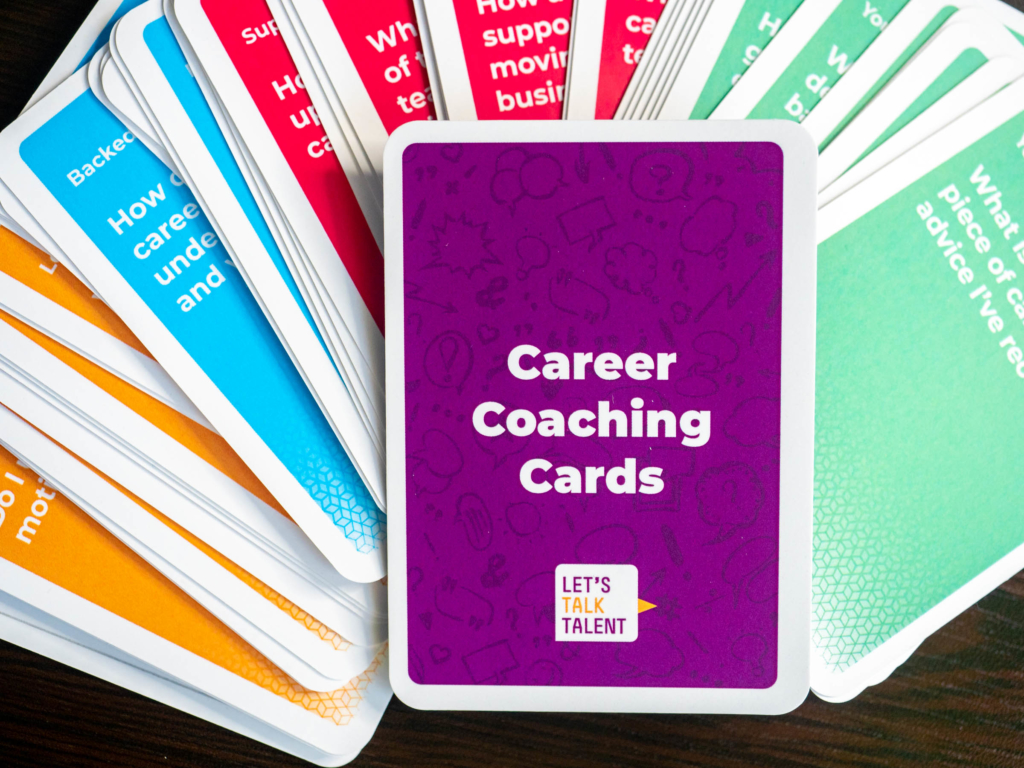 Our deck of cards contain 52 questions that help guide better career conversations and connect more with the individuals you're having these conversations with.
Each week we are releasing a question from our deck with a little more information about why we think this question is a good question and what you are looking to get out of it when you ask it.