Free HR Webinars & Courses For Future HR Leaders By Let's Talk Talent
Upcoming Courses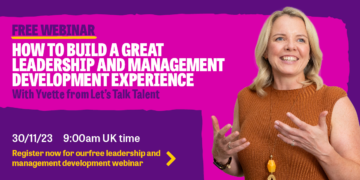 Webinar | November 30, 2023 9:00 am
Looking to unlock the true potential of your managers and leaders within your business? Join us for an eye-opening webinar that will unlock the secrets to creating exceptional leadership and management development experiences. No frills, no empty promises, just practical insights that will elevate your L&D game. Our webinar is a no-nonsense, actionable guide that will equip you with the essential tools to craft a truly great leadership and management development experience as well as revealing signs that your current development approach might need a boost. Curious?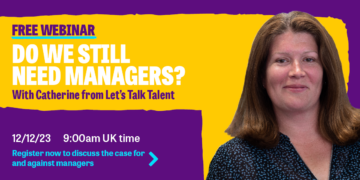 Webinar | December 14, 2023 9:00 am
In this webinar we will be exploring the challenging question of 'Do we still need managers?' Join us to discuss the case for and against managers and explore with us examples of different organisations who have had varying degrees of success with different management structures. We'd love to hear your experiences and ideas too. If you decide that managers are here to stay, we'll be taking a look at what the focus should be to ensure managers have the skills and behaviours to do the role and title justice.
Previous Courses
Webinar - November 15, 2023 9:00 am - How to get, keep and grow brilliant people with Competency Frameworks & Career Mapping – Free Webinar
Webinar - November 2, 2023 9:00 am - How to Build Competency Frameworks – Free Webinar
Webinar - October 19, 2023 9:00 am - HR Strategy 101 – Free Webinar
Webinar - October 5, 2023 9:00 am - 4 Pillars of Organisational Design – Free Webinar
Roundtable - October 3, 2023 4:30 pm - Get Your Voice Heard: 90-minute interactive Let's Talk Talent roundtable
Webinar - September 28, 2023 12:00 am - Giving & Receiving Effective Feedback – Free Webinar
WhatsApp Course - September 18, 2023 10:00 am - Performance Management Course on WhatsApp
Webinar - September 14, 2023 9:00 am - Performance Management 101: Refresh your approach to performance – Free Webinar
Paid Workshop - August 14, 2023 10:00 am - HR + L&D Innovation Tech Fest 2023
WhatsApp Course - July 17, 2023 9:00 am - Succession Planning WhatsApp Course
Webinar - July 6, 2023 9:00 am - Build the business case for succession planning with your leadership team
Webinar - June 22, 2023 9:00 am - How to motivate teams
WhatsApp Course - June 19, 2023 10:00 am - Team Development Course on WhatsApp
Roundtable - June 14, 2023 9:00 am - Yuniverse Breakfast Club: The Employee Magnet
Webinar - June 8, 2023 9:00 am - Team development: when shit hits the fan webinar
Webinar - May 25, 2023 9:00 am - How career planning helps you retain great people
WhatsApp Course - May 22, 2023 10:00 am - Career Development Course on WhatsApp
Webinar - May 19, 2023 9:00 am - Understanding Self & Others – Learning at Work Week 2023
Webinar - May 18, 2023 9:00 am - How mindfulness can help with wellbeing at work