What is it The Big Walk 2023?
Kind people are our kind of people. To kick off 2023 in the right mood, the whole team at Let's Talk Talent have committed to take part in The Big Walk 2023.
We will be walking the distance (virtually) from our Let's Talk Talent HQ in London, to the furthest member of our core team, which is Charlie who is based over in Tbilisi, Georgia.
Which is 2,500 miles!
That means each team member is aiming to walk 100 miles in January.
We are fundraising for 2 charities that are close to our hearts: Blue Skye Thinking & Dementia UK. More information and the JustGiving pages can be found below.
Team Walking Total: 2,589 miles
🎉 We did it!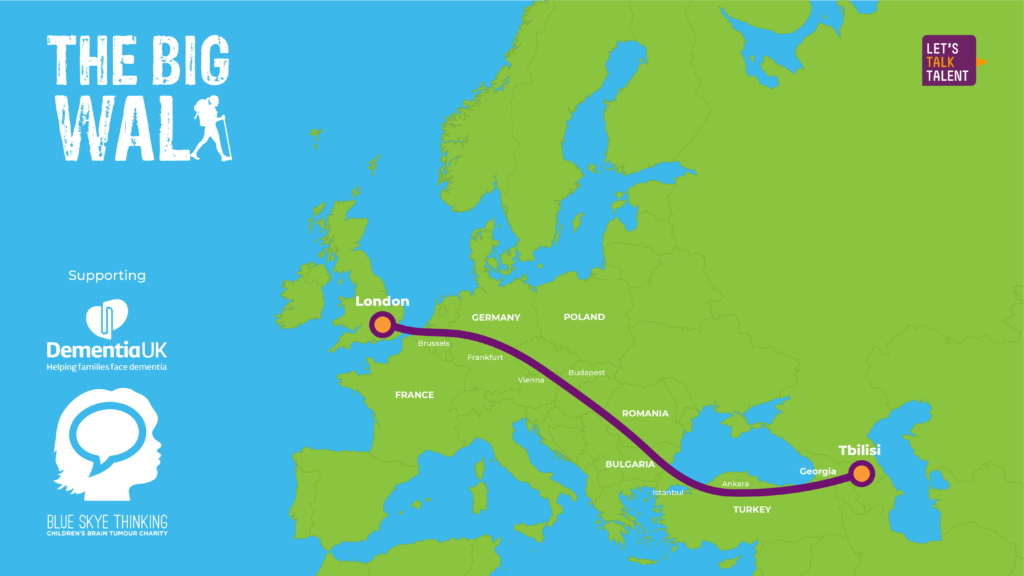 How to support us on The Big Walk 2023:
We've chosen two charities to fundraise for on The Big Walk 2023 that mean a lot to our team.
Please donate to the charity that resonates most with you.
And our whole team will love your support, nudges, and cheering to keep us on track to hit our distance target!
Dementia UK
Many of our team have family members who have been directly affected by Dementia.
We all know how heart-breaking it is to watch loved ones deteriorate with Dementia, so continued research into treatments and preventative measures is vital.
So we're committed to giving back to a charity that provides nurses who continually support, develop, and provide life-changing care for families affected by all forms of dementia.
Blue Skye Thinking
Our team have all had some experience of losing someone to cancer, so we wanted to give back to a small charity with a particular focus. One of our team knows the founders of this charity, who lost their 5 year old son, Skye.
Skye was determined to "help other children like him" by raising funds and awareness for children with brain tumours. His family continue that work, raising awareness and vital funds for childhood brain tumour treatment research and support for affected children and their families.