2024 UK Awareness Days Calendar for HR professionals
The ultimate list of UK Awareness Days and Inclusion Awareness Days in 2024 for HR professionals
A tool for busy HR professionals who want to celebrate and support their amazingly diverse workforce on various Awareness Days throughout 2024.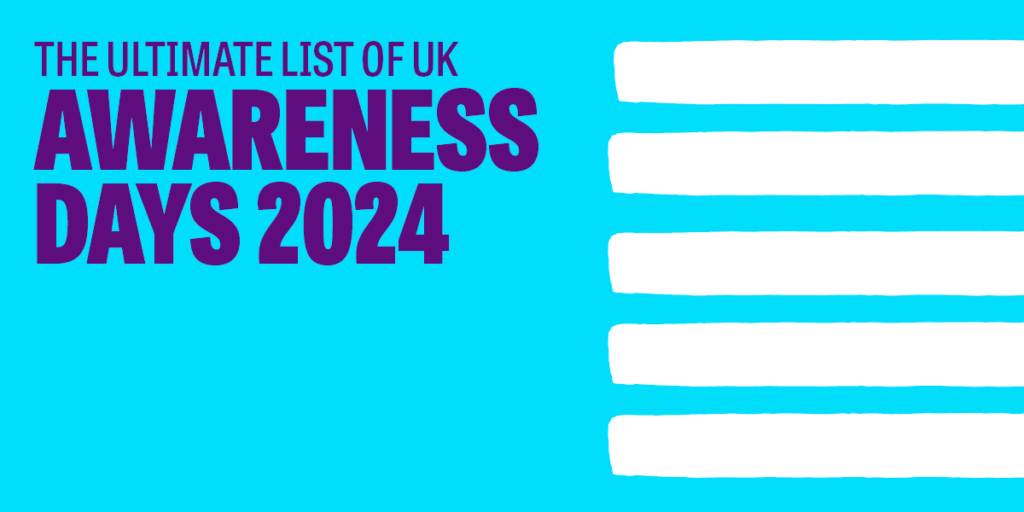 We get it, life is busy. Going through a year's worth of events, awareness days/weeks/months can take a while. So, to avoid missing out on showing your people that you care, and taking part in (at least a few of) the many celebrations that will be happening in 2024, we've got you covered.
Below is the complete list of Awareness Days, Weeks & Months celebrated in the UK. We also put this same list into a PDF, and from there you can add each individual event straight into your calendar. You can download the PDF version of the List of UK Awareness Days here.
And, just because it's us, we've thrown a few cheeky ones into the mix as well. Hint: see if you can spot our Chief Dog Officer Dylan's very own addition.
---
Why awareness days matter
Celebrating the awareness days listed in this document isn't just a PR exercise. It goes deeper than this, and many of the causes listed below hold particular significance to the employees who work within your organisation. While it's impossible to raise awareness of and celebrate them all, we recommend getting to know your staff to find out which ones hold particular meaning for your people. This will make them feel valued, appreciated and most of all, seen. Here are some of the causes that are close to the heart of the members of the LTT team.
Jo Taylor, MD & Founder: Holocaust Memorial Day, 27 January 2024
"This day stands out for me as it's important to remember where I come from. I am not a practising Jew but I do have a deep-seated faith, anchored by where I came from. Some of my family members died in the Holocaust, and we should never forget or take for granted the life that our ancestors sacrificed so we can live today."
Mike Gippert, Client Engagement Manager: Brew Monday, 15 January 2024
"I always have a cuppa on the go during the workday, and this day is a perfect reminder to reach out to those closest to you to check in and catch up. It turns Blue Monday on its head and into something positive!"
Nikki Sawyer, Project Coordinator: Random Acts of Kindness Day, 27 February 2024
"It reminds us to always look out for people around us. Sometimes, it's the small things in life that can make a big difference."
Rebecca Longman, Senior Consultant: National Careers Week, 4 to 9 March 2024
"There are so many I could have chosen on this list. I chose National Careers Week because I'm so aware of the impact our jobs have on our mental health. When people make choices to go into a career that doesn't serve them, the results can be catastrophic. Choosing a career (and job role) that plays to your strengths, celebrates you, makes you feel valued and supported and challenges you is not only positive for you personally, it impacts your family, friends, and wider network. The right career can help you be happier and healthier."
Yvette Janse Van Rensburg, Senior Consultant: National Walking Month, May 2024
"I LOVE walking! There really hasn't been a challenge or problem I've experienced that I couldn't think through whilst walking. Sometimes, just that change in space, spending time in nature, and feeling the sun or a brisk breeze on your skin can make all the difference in the world! My top tip for exploring: download AllTrails and uncover a new world!"
Charlie Southwell, Marketing Director, National Walking Month, May 2024
"It's the perfect time of year (as the seasons start to change) to really make sure you get to spend time outdoors. I love making time for walking and spending time being active with the family."
Dylan, Chief Dog Officer: International Dog Day, 26 August 2024
"Woof, indeed."
Catherine Wilson, Senior Consultant: Dyslexia Awareness Week, 7 to 13 October 2024
"My daughter is dyslexic. It is estimated that between 10% and 20% of the population are dyslexic. Whilst we have made great headway in society to understand dyslexia and to see the great value in those who are dyslexic, I think we have a long way to go before we will be truly inclusive and supportive in this area. This awareness week helps us understand and appreciate what dyslexia is and the great value dyslexic people can add to society."
Craig Howells, Sales & Operations Manager: Movember, November 2024
"It still astounds me that suicide is the leading cause of death in men under the age of 50. Samaritans answer a call for help every ten seconds and tragically, someone dies from suicide in the UK every 90 seconds. Movember is a fantastic event that raises awareness of men's health issues, and as men, we need to do more to talk to each other and seek help when something isn't right. It's okay to not be okay."
Joni Smith, Project Manager: International Happiness at Work Week, September 2024
"We spend so much time at work and life is too short to spend so much of your life miserable. It's really important to find your happy at work and for leaders to understand how to create a meaningfully happy working environment"
Awareness Days in January 2024
---
Awareness Days in February 2024
---
Awareness Days in March 2024
---
Awareness Days in April 2024
---
Awareness Days in May 2024
---
Awareness Days in June 2024
---
Awareness Days in July 2024
---
Awareness Days in August 2024
---
Awareness Days in September 2024
---
Awareness Days in October 2024
---
Awareness Days in November 2024
---
Awareness Days in December 2024
Related Resources