How to use virtual coaching on demand as part of your L&D kit bag to support and motivate your talent pool
At Let's Talk Talent, we are huge fans of using coaching as a tool to unlock people's potential. So much so that we launched our very own on-demand coaching service, which allows us to focus a great amount of time on meeting talented staff and future leaders on a one-to-one basis and help them grow. That's right. Virtual no-subscription needed expert coaching at your fingertips.
In 2020 alone, we have led over 150 hours of coaching. Crazy right! Yes, we've been busy, but all this work has helped us gather valuable insight into which situations can truly benefit from it, what makes a successful session and how to prepare for it effectively.
So we thought we would share our main findings below. Findings born out of lots and lots of conversations commissioned by dozens of great clients, all of which are committed to connecting their people with their own specific purposes.
So here is how to make the best out of virtual coaching and support your many talented employees with their career development without additional admin or paperwork.
1. Bringing in an external perspective pays off
Many organisations see coaching as big investments for their senior leaders and try and upskill managers to do this more effectively and informally in their one-to-one's. However, whilst some managers are skilled coaches, the same cannot be said of all of them. Managers are often there to direct and set direction a bit like a conductor in an orchestra, whilst coaches are on the complete opposite end of the spectrum and aim to empower employees to take on additional challenges. A bit like learning to drive with a dedicated driving instructor sitting next to you, as opposed to your parents. We've all been there right?
Coaching requires a specific set of skills. This includes active listening, a dedicated focus on a particular need and an analytical and creative mind capable of seeing both the issue at hand and the best the way to get someone to overcome it. Because it's not about fixing the problem; it's about making sure your people can unlock the solution themselves.
In addition to having opposite skillsets to that required of a coach, business leaders often have to wear many hats, from advising to directing and just overall extinguishing the next fire. So can we really expect managers to add coaching to their never-ending to-do list? We don't believe so. For coaching to be as effective as possible, a little outside help can really make a difference. An unbiased difference at that. Impartial experts are able to be solely focussed on getting to the heart of individual issues. And when a coaching programme is rolled out on a wider scale across the organisation, those issues can be compiled, analysed and played back to the business, generating meaningful opportunities for change.
However, bringing in outside support doesn't give management a free pass. Whilst trained coaches can help employees map out the road ahead, those wishing to progress with their professional development will still require support from their managers and your business in order to fully unlock their potential.
2. It's all about career planning
It may surprise you to hear that over 90% of the sessions we held as part of our virtual Coach on Demand service were centered around one question and one question only: How do I develop my career? If you thought employees were patiently waiting for an empty seat to free itself or for their managers to outline the best way for them to gain more experience, think again! Most people want to be proactive when it comes to taking charge of their own careers and coaching is one of the best approaches to help formalise goals and gain a deeper level of self-awareness. This quote from one of our clients really sums up how coaching sessions are the perfect setting to map out strengths and potential next steps under the guidance of expert advisors, using various practical exercises tailored to both the coachee and their unique professional context:
'[We developed] clear actions to make my career aspirations actually happen… To enable discussion to commence with my line manager.]
And in a world where companies move at such a record speed, often changing completely from one year to the next, making sure you help develop the right skills for your future organisational needs is more crucial than ever.
3. Breaking it down
Many businesses understand the benefits of coaching and include it in their learning and development arsenal, often reserved for senior management. But when offered as a broader benefit without a particular scenario in mind and a loosey goosey objective, it can be difficult to generate meaningful results.
So when is a good time to offer coaching to your talent pool?
Jo, our MD, believes the way to create quality conversations and real tangible improvements is to focus on the challenges of today, not the ones you anticipate will pop up in the future. Participants should take on coaching with a specific situation to work on in mind, and both the coach and coachee should establish measurable goals for each meeting in order to benchmark progress and celebrate improvements along the way.
As a tool, coaching can be used for any length of time, without the need for long-term commitment, making it easy to switch to a different approach once the initial goal has been reached.
In addition to specific professional development opportunities, coaching can also be used to guide people through change.
Our client Wellers LLP recently increased their learning and development efforts through their academy to support furloughed staff through this difficult transition using sessions with external coaches. This allowed them to engage with their people remotely in a powerful way and showed empathy for their staff's personal situations. It also laid the foundations to bring those employees back into work motivated and rejuvenated.
4. Coaching is no longer a luxury
The world of work is changing at a pace that keeps on accelerating, and organisations are struggling to keep up. Some may not be thinking about career development right now. But individuals are. More than ever.
At a time where everything is in motion, most of us are reflecting on what is important to us, and progression is coming up pretty high on the list. So whilst businesses may first be tempted to lock everything down and stop all learning and development budgets during uncertain times, those that react differently and offer opportunities for growth will benefit in the long run.
Using a service like Coach on demand is a great cost-effective way to demonstrate commitment to helping staff move up, gain deeper and broader experience and achieve their goals. But it's not all one-sided. A focus on your people will lead to higher retention and lower attrition rates, as well as create a solid pipeline of talented candidates for the future of the business.
Coaching on demand conclusion
Organisations wishing to build a strong pool of talented people to solidify the future of their business are no longer saving coaching as a luxury package for their senior leadership teams. Those who get the best results do see it as low-cost tool that generates visible results and progress towards predefined goals that benefit both the organisation and their employees' career progression. And with key outputs being played back to the business, valuable learnings can also allow for change to be rolled out at scale, not just on a one-to-one basis. As one of our clients says:
'I think it is a really good service to have available, to enable employees to talk to someone independent of the business who can advise on how create a better working environment for staff members.'
As you can probably tell, we think coaching is a great way to broaden staff experience and generate higher levels of self-awareness, motivation and retention. So much so that we dedicated a whole arm of our business to it. And with 97% of our clients' employees recommending it as a development tool, it's hard not to be enthusiastic about it.
So if coaching sounds like something that could help your talented many remain motivated, gain additional practical knowledge or go through a period of change, give us a call.
We'd be happy to help and recommend the best approach for your unique organisation and talk you through our clients' experience. And if your goal is centered around supporting career development for your team, have a look at our career planning whitepaper for a start point or to find out how coaching can fit in your career development strategy.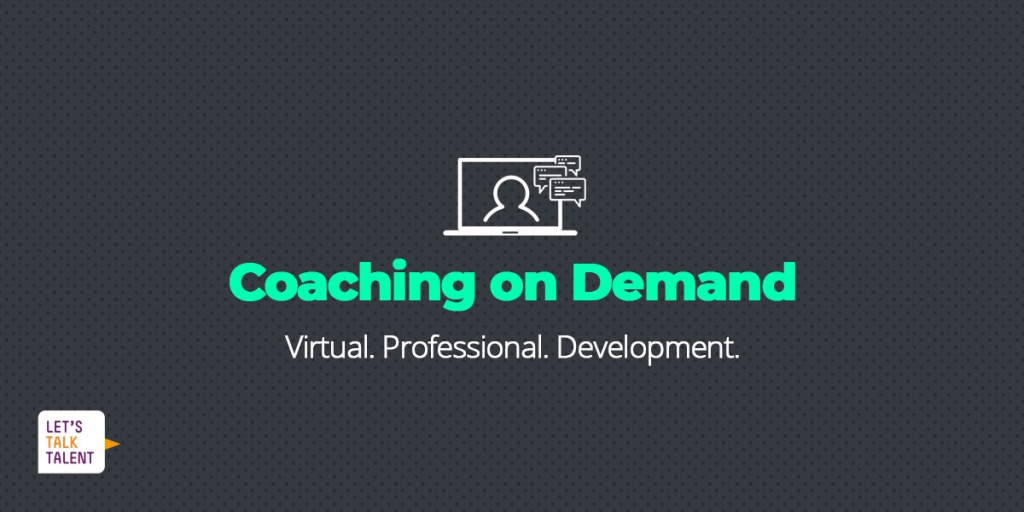 We've developed this new Coach on demand service to help support our clients' people during this challenging time. Your people get the support they need, and you as the HR function get anonymised data to help improve your service to your people.