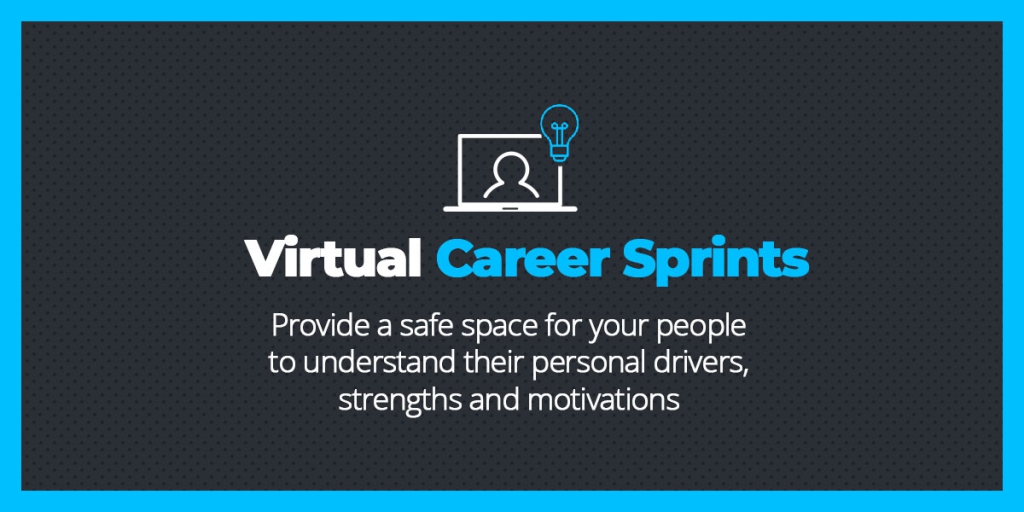 Virtual Career Sprints
Developing your employees is not only building the workforce you'll need post-pandemic, but also supporting the current wellbeing and development of your employees. Keeping your workforce engaged and developing during these difficult times is a key element to your business success during the current and future environments.
Now is the time to offer more significant career development that supports and encourages your people to explore a variety of career opportunities in your organisation, rather than just one.
By the end of the sprints, participants will become empowered, and able to take control, develop and navigate their careers through uncertainty and disruption.
Included as after-care we have included one hour coaching for each person to discuss their individual needs which ensures that people take ownership for their actions and next steps proactively.
Who are the career sprints for?
The virtual career sprints are for you if you are:
An HR leader looking to provide career development support & empowerment to your people in order to shift the focus to individuals taking the lead
A Manager looking for guidance in how to have great career conversations with their teams
As part of a wider talent programme e.g Future leader, graduates who are looking to explore possibilities in their career ahead
What will you learn on the Career Sprints?
These sprints will provide moments of inspiration, academic research on key topics, and practical exercises to create virtual experiences that are highly discursive while allowing time for self-reflection and self-awareness.
By the end of the sprints, you'll understand how to:
Take control of your career, and navigate it through uncertainty and disruption
Understand your core drivers, strengths and motivations
Leverage your networks for career success
Explore new possibilities for your career direction
Have access to a 1:1 career coaching session, to support you afterwards
What is the format of the career sprints?
Virtual learning sprints:

1 x 30 min intro
2 x 75 min virtual sprints
1 x 60 min virtual sprint

Career coaching:

1 x 60 min individual 1:1 coaching session per person

Digital tools and worksheets
External resources
Virtual Career Sprints starting from £3,500 + VAT
Book your Virtual Career Sprints now
Fill out the form below and a member of our team will be in touch within 24 hours.