Finding the right template for your business in a sea of static, corporate grids
Most of us will have to design and roll out competency frameworks at some point in our professional careers. Frameworks are, after all, widely recognised as the tool to use to give your people clarity on what they need to do, and how they need to act to be successful with you.
When designed right, they can become the lynchpin that underlines your HR strategy and links your entire employee experience together, from recruitment to performance management, all the way through to career progression. They can also increase both individual and organisational performance, motivation levels and retention rates.
If this sounds a bit hard to believe, it's probably because most competency models are created based on rehashed, linear and old-fashioned documents that don't quite hit the mark. Most of the examples available out there aren't actually useful, which somewhat explains why frameworks have been set aside over the past few years. They are often full of jargon, multi-layered and solely focused on listing generic skills rather than bringing staff the clarity they need to perform well and make a valuable contribution.
Competency frameworks should be fluid, dynamic and aspirational. So how can you pick a model that will work for you in a sea of beige ineffective grids? Which template could help you achieve the results you want? Well, worry not because at Let's Talk Talent, we have made it easier for you by selecting a few competency models and highlighting some key success factors.
The good, the bad and the ugly: starting off with the bad

We've all seen or used something similar to the above grid at some point in our professional lives. Why is it so popular, yet ineffective?
What to avoid: generic corporate jargon
Competency frameworks shouldn't be generic grids. In order to be successful, they should reflect your internal culture and mirror your cultural DNA. They should instantly show employees what it's like to work for you, and clearly illustrate how this experience differs from working for a competitor.
If your people do not see themselves reflected in the document (hence the importance of using inclusive language), adhesion will prove that much harder. Make sure that anyone reading your competency frameworks recognises that they were created by and for you.
What to avoid: being vague
After going through the framework above, would you understand how to do your job well? Most models focus on telling staff what to do to move from point A to point B. We believe competency frameworks should go much further and actually inspire people. Don't just give them a list of skills to interpret: illustrate exactly what good looks like for any specific role.
What would be an example of a great performance? And what would developing or struggling look like? Giving extra clarity will ensure your people know how to go about doing the job, so don't hesitate to provide both good and bad scenarios.
And don't forget it's not just about the what; it's also about the how. The traits, behaviours and attributes you expect your employees to display when working for you are just as important as the knowledge or experience you expect them to bring to the table. Include those in your competency frameworks to give a complete picture of how to perform well at any level.
What to avoid: complexity
The main objective of competency frameworks is to bring clarity. So anything compex, multi-tiered or multi-layered as the example above should be avoided. Make sure the final product provides clear answers to the following key questions:
What do I need to do to be successful within the organisation?
How do I need to do it?
How do I navigate my career here?
And don't just take your own word for it. Test drive them. Throughout the design process, organise focus groups, put your frameworks in front of people and find out if they need to be tweaked. Effective tools can only be developed through a collaborative, iterative process.
Now that we've had a look at the worst, let's have a look at what works.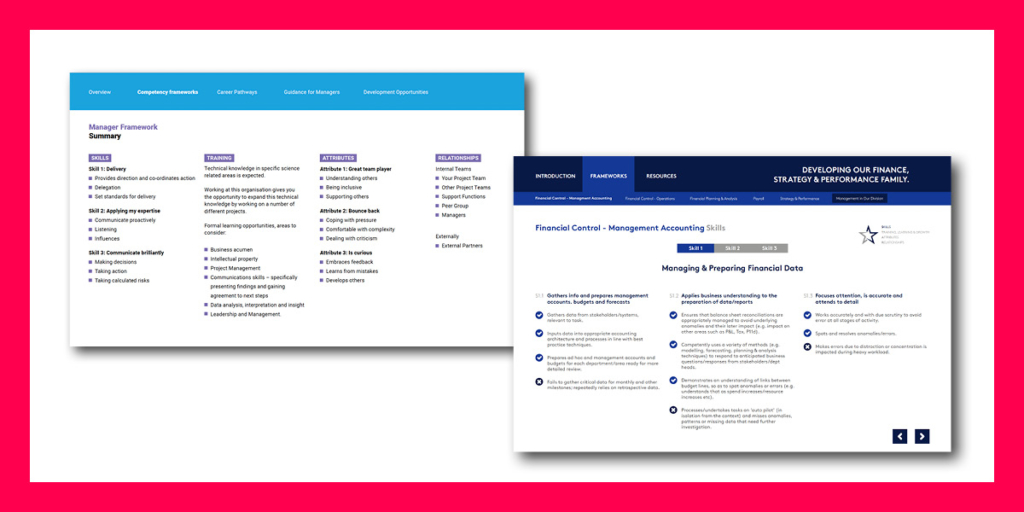 What to do: start off with a clear purpose
To achieve results, you'll need to know what kind of results you're hoping for. What's the problem you are trying to solve? What's your big exam question? Figuring that out from the start will ensure you weave that objective into everything you do. For example, an organisation aiming to change its internal culture to promote inclusivity could start off by consulting various members of its communities to find out how to approach the issue, and therefore design competency frameworks with diversity and inclusion (D&I) at their core.
The resulting tools should mirror your cultural DNA, whilst being closely linked to your business purpose. As a test, have a look at the above framework and try to find out which big exam question it is trying to answer. Figured it out? Drop Let's Talk Talent a line, we'll let you know if you got it right!
What to do: be aspirational
Ultimately, competency frameworks are about driving high performance. As such, they should demonstrate how to go further than just 'getting the job done'. They should state how employees can strive for more, show initiative and contribute to organisational goals through the skills, traits and behaviours they bring to the table. After all, the main objective of competency frameworks is to foster and develop high performance, both from an individual and business point of view.
What to do: provide a career map
Competency frameworks aren't just about the here and now. They are a stepping stone for career progression. By answering the question 'How can I navigate my career here?', they focus your people's gaze and allow staff to cut through the noise and select the opportunity that is most suited to their skills and ambitions.
The above template, as an example, is part of a series of three frameworks, each specific to a broad job level: employee, management, leadership. Producing the series allowed everyone within the organisation to gain a common understanding of what is needed to progress to the next level, thus focusing less on the roles and more on the possibilities.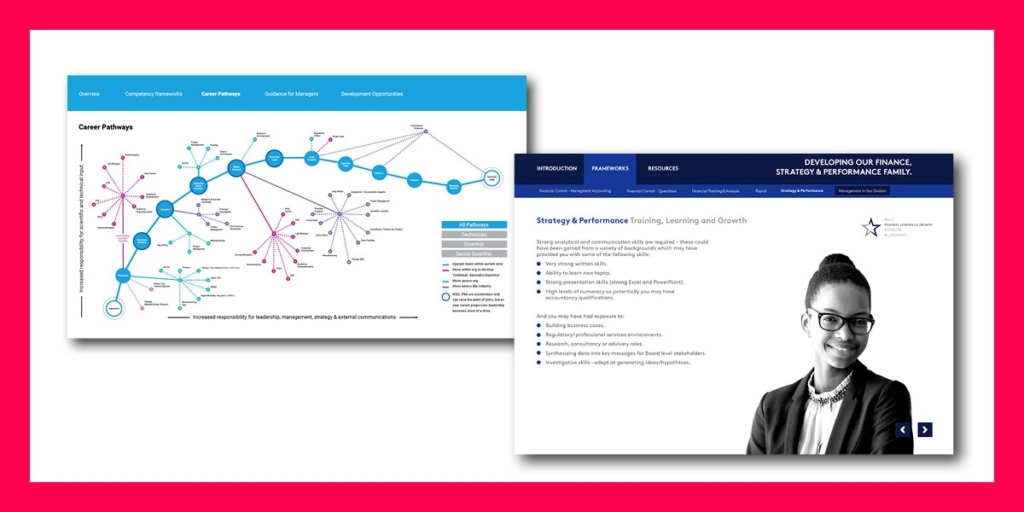 Conclusion
Competency frameworks can be powerful allies when it comes to generating high performance. But to achieve those kinds of results, you'll need to do much more than go through the motions of filling in grid templates. You'll need to break the mould. Make sure you design frameworks that represent your organisation and the people in it, are fluid, dynamic and also aspirational. And most importantly, don't be afraid to change them. Your business is an ecosystem, constantly adapting to many factors. Competency frameworks should follow suit. Test them regularly, check they still resonate with staff, and iterate often. When done right, competency frameworks can be the one tool that allows you to work on every single aspect of your talent management strategy, from recruitment to retention.
If you'd like to know more about designing competency frameworks that make you stand out from the crowd, give us a call. Or download our competency frameworks whitepaper here for everything you need to know about creating, reviewing and rolling them out to your people.