Using competency frameworks for career mapping
As you might have seen in our previous blogs, we're pretty big fans of modern competency frameworks. As one of the main tools in any HR professional's arsenal, they allow organisations to clearly articulate to their employees what they need to do, and how they need to do it in order to be successful within the business. But whilst it's all well and good to show staff what good looks like as well as the sorts of skill set and behaviours they should work hard to develop, you can't exactly just leave them to get on with it afterwards, right? Once you've managed to create and roll out competency frameworks that highlight the skills, attributes, training and relationships needed to do well, how can you follow that up and help your people to put this knowledge into practice?
Competency frameworks can be the linchpin that holds your entire HR strategy together, from recruitment to career progression. And we're here to help you use them to their full potential so you can create a smooth and consistent employee experience that allows your people to move forward and easily navigate their careers with you. 
Starting off on the right foot with modern competency frameworks
First off, if competency frameworks are to be the foundation upon which you build each one of your organisation's HR projects, you'll want to make sure that foundation is solid. Competency frameworks should be inspirational tools, and written in such a way that your people can see themselves reflected in the final output. Frameworks also need to clearly lay out how each employee can progress with their careers, whilst also contributing to reaching organisational goals.
If you'd like to know how to do this, we've written a blog highlighting the Let's Talk Talent approach to designing effective competency frameworks. And whilst using the resulting competency frameworks to optimise your entire employee experience from start to finish may sound like a bit of an endeavour, it can actually be summed up quite nicely: it is simply about helping you get great people, and keeping great people.
How to use competency frameworks to attract talent
Once competency frameworks are designed and rolled out, many organisations whip them out during the induction stage as a way to align role expectations from the get-go, and then put them away until that role needs to be filled again. But there is so much more that can be done, and this is where Let's Talk Talent believes competency frameworks can be used to their full potential: creating the all-important join up between every single touchpoint of your HR strategy. Starting with the recruitment stage.
By clearly stating the skills and behaviours needed for each role within the business through the use of up-to-date and aspirational competency frameworks, your entire recruitment process can be geared towards getting the best people for the job. Here how:
More targeted job postings that attract the right candidates, with the right skill sets.
Tailored competency-style interviews and assessment centres that focus on more than a list of generic skills, but also include expected behaviours and attributes to help you select the best recruits for the job.
A defined Employee Value Proposition (EVP) that shows a clear picture of what it's like to work for you from the very beginning, reducing the kind of initial churn that is often seen when the projected organisational culture doesn't really fit reality.
Effective training packs and onboarding materials so staff can understand quickly what they need to do, and how they need to do it, in order to succeed within the company.
Career mapping, which shows where your department is going and the role that will be needed to get there in the next few years, could help you identify talent gaps. Competency frameworks can be used to create relevant job descriptions, attracting the kind of talent you will require to reach your long-term business strategy. 
And that's not all: once you've managed to recruit culturally aligned candidates for your business by showing them what it's like to work for you and how they can expect to progress from the start, there's also plenty you can do with competency frameworks to make sure they are in it for the long run.   
Have a look at the 10 future roles of HR for a sneak peek into future trends that will shape the HR industry.
How to use competency frameworks to retain talent
Attracting the right people is part one of the equation. For a truly seamless process, you have to carry the employee experience through to the next stage of talent management: engagement & retention. Again, competency frameworks can become the all-important join up that elevates your effort and provide consistency throughout each of the following areas:
Using competency frameworks for career mapping 
One of our clients came to us with a very clear brief: to help them empower their people to have successful careers within the organisation. So we set to work by designing competency frameworks that answered the following three questions:
What skills and behaviours are required for me to be successful here?
How do I get to the next broad career level?
How might I need to develop to work across different divisions?
Once created, those frameworks became the stepping stone for the development of dedicated career pathways that highlighted the various progression opportunities available within each role, and provided clear goalposts for those wishing to move up to the next level.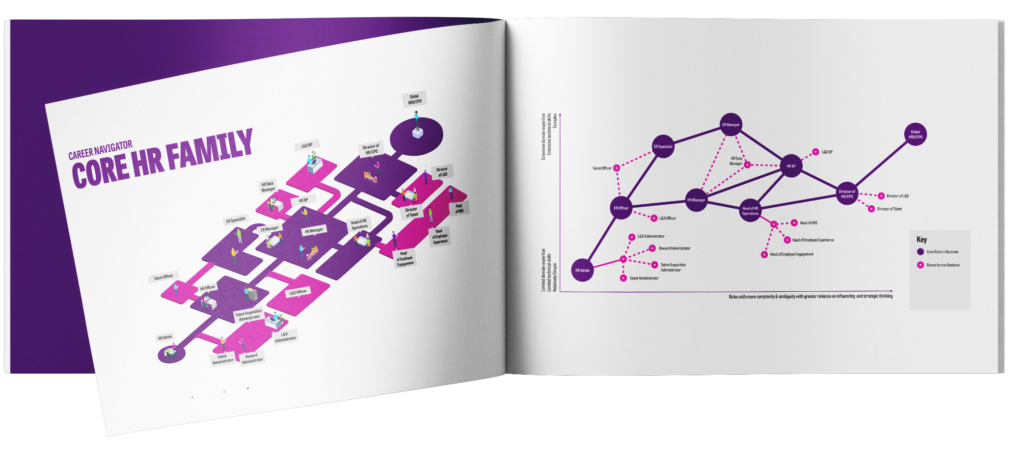 Following up with Learning and Development (L&D) opportunities
Once career progression opportunities have been mapped out, your people may still need a bit of support in order to reach for them. Using tailored career pathways for each role, managers and leaders should then be able to offer up relevant training options based on the skills and attributes that are valued and should be developed within the organisation. This can be done by offering courses, workshops and training materials for either technical or generic skills, or mentoring and coaching resources to those who may benefit from them.
Performance management using competency frameworks
One of the most common pitfalls when using competency frameworks for performance management is to create a stick, but forget about the carrot. Sure, grids and models should provide the guide rails that drive high performance within a team, but they should also be inspirational and generate motivation. Instead of pulling them out once a year to give ratings during the annual performance review, make sure they are the foundation upon which you structure your regular career development check-ins or performance conversations.
Use frameworks during your performance management process to:
Guide your people's progression;
Provide staff with the kind of support that will allow them to fully unlock their potential;
Create a process that puts fairness and equality at its heart.
By setting and communicating clear promotion or rewards criteria, employees can be sure of a fair and equal selection process, free of personal preferences or unconscious bias. They can then work towards achieving their professional goals and, at the same time, increase their contribution to the business.
Using competency frameworks to future-proof your business
Implementing a competency-based performance management system will undoubtedly lead to managers and leadership teams having a more comprehensive view of their team members' performance. They will therefore be better equipped to identify the organisations' high potential employees based on the skills and behaviours sought after by the business, and to get to work on increasing their performance using available development resources.
Alternatively, competency frameworks could also be used to highlight missing skill sets or attributes and as such, inform external recruitment needs in order to future-proof the organisation and ensure its long-term strategy can be delivered.
Conclusion: How to use competency frameworks to help career progression
When used well, competency frameworks can create the much needed join up between each of the stages of your HR strategy, offering employees a consistent and transparent experience from their very first contact with you until the day they leave the organisation. So if you feel like your competency frameworks could work harder for you, make sure you dust them off and use creativity to design modern, kick-ass dynamic tools that will leave your people striving for more.
If you're thinking of revamping those for your business, make sure you watch out for our next blog on the most common pitfalls to avoid when designing competency frameworks. Otherwise, get a sneak preview by downloading our competency frameworks whitepaper here.
Related competency frameworks resources: