How to support your employees' working lives in a way that suits their needs
It's no secret that organisations have been preparing their 'back to the office' plans for months now, backed by a government eager to give struggling city centre businesses a boost. Big companies have, one after the other, announced some kind of return to the workplace, each sticking to a variation of the 2:3 hybrid ratio, allowing for some time at home whilst also expecting mandatory office time. If most major enterprises have hung their hats on a hybrid model, should all businesses follow suit? Is a split between remote and onsite really the best way to go in order to please an incredibly diverse workforce?
The truth is, not necessarily. Many of us have thrived during the pandemic, achieving a healthier work-life balance. Many of us have also hated every second of it, suffering from isolation and loneliness or not being able to work effectively in an unsuited or crowded environment. Whilst the 2:3 hybrid model may seem like a good compromise to try and please everyone, it could potentially not be enough for either groups of workers. After all, most people have just spent the past 18 months proving they can do their jobs well remotely, so how can businesses justify forcing their employees to come back into the office without evidence of any added benefits? Will staff just follow suit and hop back on the commuter train? With the past year providing an opportunity for people to really think about what's important to them professionally, could you be in danger of alienating some key members of staff? Which version of hybrid, fully remote or office-based working model is right for you?
At Let's Talk Talent (LTT), we like to make things simple. We believe in giving people a choice, and trusting that they will do what's right. But whilst we advocate empowering your staff to decide for themselves, we also understand you need to do what's best for your business. Both these factors can be a hard act to juggle; that's why we're here to help you find the right model by moving away from prescriptive formulas and towards a more task-based approach developed around your unique organisational context. Here's how it works.
A new world of work
First, it's worth reminding everyone that we are at an exciting historic point: we have the potential to reinvent the way people work. Businesses around the world have the opportunity to truly change their employees' lives for the better. For us at LTT, that also means understanding that there is no one-size-fits-all recipe that can be applied to all organisations and, more importantly, all people. Individuals can thrive in different environments, which is why a return to the office model should be carefully thought about as ignoring the new reality could have costly impacts. Employees who are forced into a blanket set of guidelines that does not fit their lifestyles or values will not hesitate to leave to find a new role, a phenomenon already visible in the US and referred to as The Great Resignation, where a record four million workers quit their jobs in April 2021 alone.
However, we are not advocating a free-for-all 'everyone does what they like' cavalier attitude to returning to work. There are ways to help staff, managers and HR departments alike shape their reflection and to guide them towards the right decision based not on an arbitrary amount of time set by the board, but on the task at hand. Reward Gateway (RG) has done just that, and they were kind enough to share their findings with us.
Work Modes: a task-based approach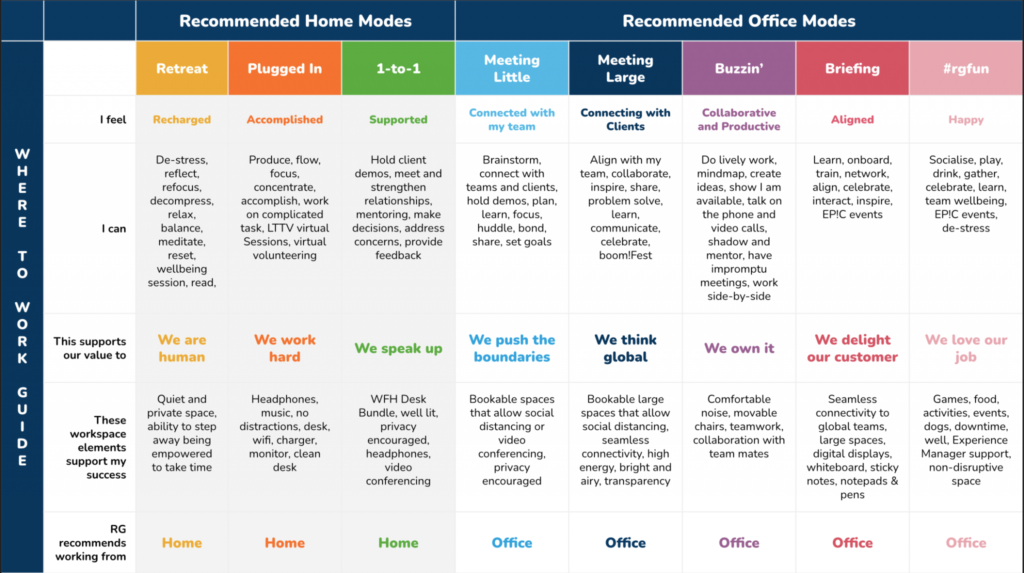 When considering how to bring their staff back to work, Reward Gateway (the company behind the development of a great employee engagement platform) decided to ask themselves, and their employees, what would work best. This collaborative approach led to the creation of Work Modes, a guide to the best time and place to accomplish specific tasks. The guide was not designed to prescribe where staff should work, but as a recommendation on where a particular part of their role would be most efficiently done.
Putting the focus on what employees are doing, where is best for them to be and when they should be at home and in the office is the only way to benefit both your business and your people. It's all about optimising productivity, whilst also providing people with the support needed to focus on their wellbeing. What might this look like in practical terms? A creative agency, for example, might suggest bringing its team together in the office for brainstorms or ideation sessions in order to spark innovative thinking and generate energy, whilst an IT or development department may prefer to focus on time at home in order to get their head down and quietly get on with solving problems.
Can this model be used by all organisations? As we said, there are no one-size-fits-all frameworks that can ensure the perfect transition back to work. Whilst the already developed RG version can be used as a starting guide, it may be best for employers and HR departments to develop and adapt their own version as types of tasks, trends and activities will vary from one sector to another.
Developing your own model for hybrid working and the future of work
So for those of you who are ready to shape up the new world of working and give your employees the trust and guidance to determine where they can do their best work, Reward Gateway has a few tips:
"Start with surveys and workshops in order to map out all tasks that need to be done within the organisation. This will allow you to spot activity trends and group those into meaningful work modes. Including your people in the process will also create engagement and bring out information you may have missed otherwise." says Catrin Lewis.
Hybrid is all about making it easier for your people to interact and do their work on a daily basis, so when developing your own model for a successful return to work, make sure you put your Employee Experience (EE) glasses on. Adtrack, a digital marketing agency based in Nottingham, is a great example of adapting to the new reality. In a recent article, the company has stated that they are asking employees to come in once a week on the same day as their team and offers the flexibility to work from home the rest of the time. They have also reconfigured their office to reduce the number of desks and increase the amount of tech-enabled team working spaces to encourage collaboration.
So ask yourself: what would help staff bring the best version of themselves to work? Consider inclusivity, and treat your people as you would your clients. For example, could you create quiet spaces in the office for those who need to think and process information? Are you able to start meetings after the school run? Are you making sure all voices are heard? Do you actively listen to your people's needs and find ways to facilitate their return to work by optimising their contribution to your business goals?
The future begins with trusting your people
It's important to note that for a task-based approach to returning to the office to be successful, trust is absolutely essential. Businesses need to trust individuals to make the right decisions for themselves and for the business, but also to trust their managerial staff to manage their own team in a way that will benefit the organisation. Managers are on the front line every day, having regular conversations with staff. They have an ear to the ground and empowering them to make key decisions will ensure individual needs are met on a daily basis.
But trust has to go both ways, so be careful not to implement a return to work policy that creates tiers within the organisation. Not everyone will be in a position to work from home as some roles, such as retail, manufacturing or transport positions will always have to be done onsite. Employees filling those roles may feel they do not have access to the same benefits as other colleagues, and they will need to know they can trust you to create a level playing field. Consider initiatives such as secondments, redeployments, rotations or staff loans for those who may need it.
Conclusion: really listen to your people about their needs
As you may have guessed, we are not big fans of blanket frameworks mandating a set number of onsite work days. And neither is a big chunk of your workforce. So take the opportunity to be part of something new, and really reflect on what would work for you, your business and your people. Think of how people are doing their jobs now, whilst working from home is mandatory, and how they will be doing their jobs in the future. Then look at this through the lens of what tasks have to be performed, before recommending where those would be more likely to be done efficiently.
Note that the key word here is 'recommend'. Don't set arbitrary formal rules or get caught up in red tape or form filling.
Trust your people, and your managers, to do the right thing. Everyone's circumstances will be different, so make sure you give them the opportunity to choose how and where to do their best work based on their very own skill sets, personality types and personal situation. When that's not possible, look for creative ways to even things out and avoid creating tiers of benefits that some workers will never be able to achieve by using various initiatives. And remember that most organisations will get it wrong at some point. This is new for everyone, and the situation will ebb and flow as things change. Don't hesitate to test a few things and iterate, and be honest about what worked and what didn't. Continuous improvement is the only way to get there.
If you need a bit of support on creating your own version of the Work Modes model, book a meeting with us to discuss it.
Don't miss our podcast conversation with Reward Gateway on how they implemented this within their organisation here.