Let's Talk Talent's Podcast Episode 7. Where do your employees do their best work?
This month Jo Taylor is joined by Robert Hicks and Catrin Lewis from Reward Gateway. We look at their approach to hybrid working and how they have decided to start from the tasks, rather than how many days a week someone needs to be based where.
Find out more about work modes, and how you could use this planning tool in your organisation.
Scroll down for links, resources and the transcription of the podcast.
Links and resources we mentioned in the podcast:
Reward Gateway's Blog post on Hybrid Working lessons.
Work Modes Graphic that Rob shared on LinkedIn here.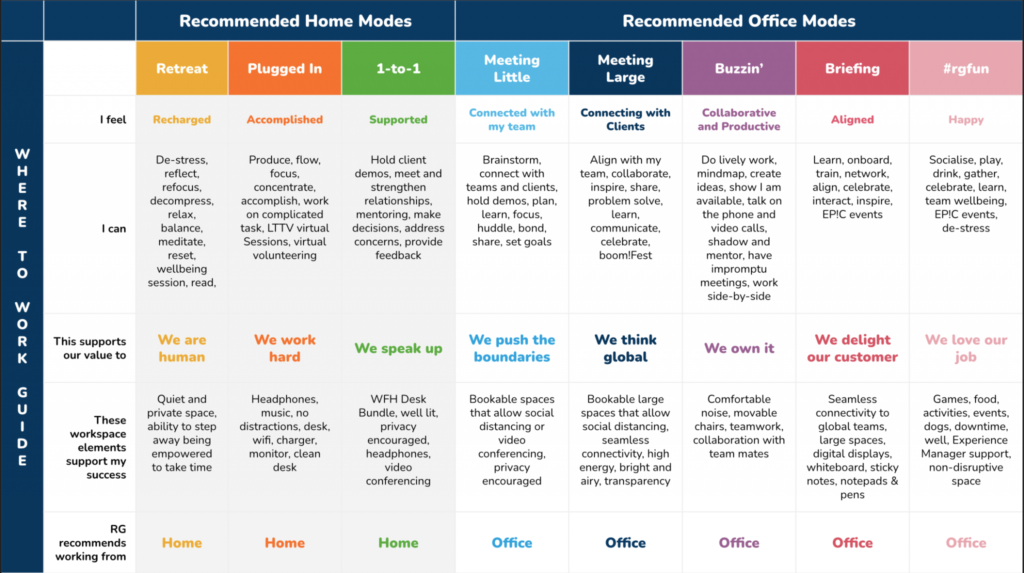 Transcription of this podcast episode:
Jo Taylor
Hi, and welcome to the Let's Talk Talent podcast. We're going to be sharing, over a series of episodes, tips and techniques – bringing our friends and family to share their stories, their experience of working life today. Because together we can create simply irresistible organisations. Happy listening!
So hi, everybody, welcome to the Let's Talk Talent, Episode 7 podcast. I'm joined by Rob and Cat from Reward Gateway. And today we're going to be talking about hybrid working. Before I jump in, a lot of you that will be listening will be thinking about "what does hybrid mean?" And actually, it's a really interesting debate. We're going to really be talking about that over the next 15 – 20 minutes. Because whether you're thinking about bringing people fully back to the office, whether you're thinking about having people working from home, or whether you're having half-and-half, I think it's going to be a really interesting phenomenon to think about. Because actually, it's about reinventing work. There isn't going to be "one size fits all". We're going to really look at that with Rob and Cat, who've been doing some fantastic work at Reward Gateway.
We wanted to share it with our listeners, and really think about how you can take some hints and tips into *your* world of work. So Rob and Cat, what does 'hybrid' mean for Reward Gateway?
Cat Lewis
Hybrid working for us is all about *where* you work. We'd operated as a flexible working company for many years, and that was all about *how* we work. And hybrid was the newer introduction when we started to realise that actually our employees can thrive in different environments for the task at hand. So for us hybrid is all around the 'where'.
Jo Taylor
Can you explain a little bit about work modes? Because when I saw your graphic on LinkedIn, it really appealed to me because it was super simple. And it gave people choice, but you weren't *telling* people where they needed to work – you were giving them a choice, ultimately, and giving them a preference. Could you go into it in a little bit more detail?
Cat Lewis
Yes, work modes is our guide for employees to basically help them make the right decision. And just to recommend to them where we feel the tasks that they have to do within their role would be best done. But it's not to say that they *have* to be done in that way, because we totally appreciate that everybody does work differently. Speaking with all of our employees, what we did was run a survey and a series of workshops with them, to listen to their tasks and everything that they do in their roles across every department, and then trend out all those different activities that they have in their role. And obviously, we were very lucky then that we found that they went quite neatly into eight different modes of work that everybody takes part in. And from there, our first version of the work modes guide was born.
Jo Taylor
So how do you know if work modes are for you?
Cat Lewis
Well, I think the nice thing about work modes is that they could be for anyone. Because we made them with our employees, and every single team in the company was involved in sharing the activities that go into their roles that they do, this could work whether you work in tech, retail, engineering – any sector really would be able to do this with their employees. You're basically collecting all the data from everyone in your company, trending out the different activities that goes into the roles, and there will be similarities between them, there will be intersections of the teams working in similar ways. And then designing the names of your work modes around what you find. So perhaps they won't have the same as at Reward Gateway – if you are a retail store, and you've got shops on the high street, and perhaps you've got warehouse staff and you've got a head office, you could have maybe 12 work modes or more. But you will be able to find something that's completely suited to your company and a model that fits everybody, whatever industry you're in.
Jo Taylor
Brilliant. Thank you. So what can you learn by putting this together? What are some of the lessons that you could share with somebody that perhaps when they're thinking about doing their version of work modes, they could take into their thinking?
Rob Hicks
I think the first thing is a lot of the work modes people have already been working on for the last 18 months, because of COVID. And they've had to adapt to the different ways of working at home or in office. And this really is an office-centric model, which I always like to be clear on. Our key principle is around the listening as to what staff need, and to make sure that when you're going into a work mode decision basis – to work out what your staff need – is to really listen and to really understand how they're doing their job now and how they're going to be doing their job in the future. I think that the other piece is really – what's top of the table – is it says 'recommended' and to take Cat's point is that you can't arbitrarily set formal rules and we have recommended because each person's circumstances are going to be different. An example of that would be: I manage people in Bulgaria and in the US, so if I'm doing a one-to-one with them, it's going to be advantageous to be at home so there are less distractions, and it's automatically private. But Cat and I work together, and so if Cat and I are going to do a one-to-one, we might do that in the office to have a conversation where we can use a whiteboard. And it's really about looking, for us, at *how* you want to do things, getting people to make a decision based upon their own individual circumstances. But when you're looking at the work modes, try and not end up with the mode type. But actually break it down into the different tasks, because it's the tasks which drive where it's best for you to work.
Cat Lewis
Yeah, I can tell you a bit about my learnings. So the work modes are something which – they're not a result of COVID, or the pandemic, or working from home – they're something which we've been developing over four years. We came out of our office in 2016, we were working to fit the office space, we were spread across different floors, our departments were all sitting with each other. Some of the senior leadership had offices, it was much more traditional, I guess you would say, and we had to leave that building. And that gave us the opportunity to not try and fit a space that was there because we'd rented it, we were able to find a space that worked for our culture, and our communication styles, and also our values and everything that we live and breathe at RG. So when we were developing the spaces, every part of it is there to enable the jobs, the furniture that we've got, you'll see there's no walls – so we say "open and honest communication". So everything would be glass and transparent and very clear as to what you can see. There's no offices anymore, the leadership are very much sat with the teams and there's no divisions between the teams either because we want a collaborative workspace, we've got these great pods where people can go in to do our scrums in the morning and just making the areas which the tech teams need to work with our agile development style that we have in engineering. I think when it came to last year, when we were seeing all these companies focusing first on how many days people are going to be in the office, that's kind of skipping a whole step here. Could be really something we do a lot is start with 'why?' at Reward Gateway, so why do people want to come back. And you've got to give a really strong reason now because people have been working for 18 months in the home environment, they know that the company has been performing still, and we're very open with our financial results as well. So explaining why you need to come back, and the office is still of value to you, was something that really needed to be clear and strong. And so this helps to solve that communication piece, I think another win for us – and before the pandemic happened, we were struggling in the offices as we grew to accommodate some of the spaces. So small meeting rooms can take up floor space; floor space is expensive in London, too. And so this was meaning that we would no longer have queues for meeting rooms, and people would be able to take those one-on-one meetings and have them at home and start to free up the office for more collaborative team activities that we'd have. Yeah, I think it has been received very well. I've appreciated some of the newer managers and people that are perhaps less confident in "am I making the right decision?" just reaching out and saying that they really do appreciate the level of detail, even though you could look at it and think well, some of this seems like common sense. Not every employee will – it could be their first job role, it could be the first time they've worked in a hybrid environment. So really writing it down and making a point that they can refer to, it just helps with the whole wellbeing of employees as well, where they're not worrying about "where should I be?", they can just focus on what they need to get done
Jo Taylor
Well it's interesting, because I've read a couple of articles, and what you're really talking about with your work modes is that dichotomy between time – the time that people are working because we know that the sort of pandemic and hybrid is throwing up that people are working longer. They're always on. They're feeling that there's less of a blend between work and life, but you're also looking at place. So what is the best place to have that conversation, the best place to bring that psychological safety and the wrapper that you're talking about – which I'd love to explore with you in a little bit more detail – is that wellbeing piece. When you were thinking about work modes, how much trust, psychological safety, role-modelling empathy, played a big part in not only your culture, but your employee value proposition going forward.
Rob Hicks
So for me, I wanted to really have the future set in terms of that in-built flexibility and I'll often talk about: let's look at what was working well in 2019? what did we enjoy in 2020? and bring those two together to create the future. I also think that there's a really important aspect which we need to grasp hold of which is, this is going to be an evolving and an organic process. And what's right for the second half of 2021 might not be right in a year's time. And there's a couple of different areas, which I think are really important thinking points, which I think people need to jot down kind of for their own memory jotters. Number one, how am I going to onboard new people? Onboarding is, I think, the biggest organisational challenge with hybrid working, because what happens if everybody you need to see, isn't there? And do you have the social connections? And the second piece is around being an "office first" company. So for us, we want you to have a choice as to where you do your activities. But we are not a remote working company. There are some businesses you talk about being a fully remote. Reward Gateway has grown from humble beginnings to we're just under 500 people now, we're in four countries. So we're used to connecting with each other. But the office is central to our success today, and will be central to our success going forward, it will just be used differently. So it's all of the Cs: it's the connection, the collaboration, it's bringing all of these elements together which really where you need to be thinking. And what I think's really, really important, is rather than trying to push the solutions on it, on others, it's asking "what are the challenges we have?" Our challenge is onboarding new people, and "how do we get them up to speed?" So what can we do there? So we're just now starting to reintroduce – as the restrictions ease across the globe – things which are nice for the people who are going into the office, some socials, we're relaunching our wellbeing cafe, in London, so people have needed to be home. So they've been working at home in a crisis. It's not been remote work. And I think that's a really big and important distinction.
Jo Taylor
So how much does your way of working and your approach feed into trust? Because what you're really talking about is you're trusting people to do the right thing. And to work in that way. Where does that come into this equation?
Cat Lewis
I think the important thing to know is that when we built these work modes, it wasn't the people team just working on our own and saying "this is the number of days, and this is where you're going to be, and that's what we want from you". This was a real collaborative effort with the employees as well. So running through, as I said, the surveys and then the workshops with them, and then talking with our managers, which we do every month, and just seeing how they're landing, how we can adapt to suit their needs. So they've had – they've been fully invested with the project because they built it with us. And they then know that it's been built with their voice heard, so they trust us to do the right thing. While we also trust them to do the right thing. It's been a really two-way project. And I think that for that reason, it's just been very well received rather than Rob and I coming with just our view of how Reward Gateway works. And then us saying, "well, this is how *we* think you should go about your day". That doesn't really work because I've never been an engineer. I've never been in employee support. I don't really know how those roles can thrive. I can have my opinion on it, but I don't live it. So by partnering with all the different departments and then having their voices heard, they do feel like they're trusted because they've been trusted to be part of the project and that they know their job best.
Rob Hicks
I'd echo what Cat said. And it goes back to how we write our rules. Like we'll both pull faces about the term 'rules', because we really don't like it. But we try and write any form of guidance, rule or suggestion for our employees, with the 99% rule at the front of our mind. Which is we're writing it for 99% of people, not the 1% where there's going to be a bump in the road. Reward Gateway is blessed with being a high trust culture. We trust people to work from home, we don't have clocking in and clocking out in most of the countries. In some teams, we do have shifts because they're providing a particular level of service. But generally, all of our teams can decide when they start based on their flexibility. And that involves when they do and don't take lunch breaks and have other outside factors there. I think you have to start with trust. I think it's quite a good question to ask, which is, "how much of this do we need to build on trust?" And how much do we need to make a little bit more explicit to help people? And I don't think the absence of trust is what people are thinking when they're given the frameworks. It's actually giving the right level of guidance so people can then be trusted with what they're doing. So I think there's a really important distinction here between trust and structure. And I think sometimes people might confuse the two.
Jo Taylor
That sort of plays into how your managers support this. Have you thought about – with the work modes – how your managers leant in, or whether you needed to do any particular communication? How've you looked at it from both an all-employee perspective, but also your managers in activating it and managing it going forward?
Cat Lewis
Yeah, change management is a long process. So the pieces that you've seen, that we've now published on our website, they actually circulated with our managers for two months before it was going out to our employees. We have the guides, and I've been working on them with Rob, and then we have our own team that looked at it, and then the leadership team. And then I left it with the managers and gave them plenty of time to reflect and think about those. And then it was July that we published them out. So you obviously saw when that went live. And then we published it to all employees and said, the whole company is going to get to see these now for another four weeks before we publish them to our careers website – it actually went very, very well, we didn't have any challenges against that. But it is not something that I could have just written and then overnight, just published it without them saying, giving them that time to understand it, reflect on it, talk about it with their teams. And at the moment, we've got two more to go. We're doing engagement bridge workshops with all of our managers, and we're focused on workspace. So we're looking at our thinking behind it, and then our own model and how we're using it and how it's now working in practice, and just letting the managers lead those conversations. And I'll spend a lot of time listening and learning from them, and then seeing how it's been adopted.
Jo Taylor
Brilliant. So final question for both of you. How do you think this is going to affect the war for talent, because that hasn't gone from that seminal McKinsey paper. If anything, we're seeing people leave organisations for some of the things that they don't feel are in place, or they're going back to micromanagement. This is a societal impact, hybrid working. What are you seeing from both of your angles? I'd love to hear that and share that with the listeners.
Rob Hicks
I think one of the really interesting hashtags, and I'm going to use that social media term that I've seen. And I think people are trying to get more focused on it. The war on talent, and McKinsey, it's a slightly bruising term. But more people now are talking around what they're calling "the great resignation", which is 18 months of stored-up demand for employees for change alongside a lot of companies looking for growth. And it's an oft talked about term on LinkedIn, and on the HR Twitter circles, and I think it goes back down to the fundamentals of how you want your business to be, and your EVP, and the levels of trust, the levels of autonomy. I think it's going to be really important for the next 12–18 months. But I think longer term, once organisations have settled on how they want to be, will give a greater sense of clarity for both employees existing, but also future employees, on "is this where I want to be working?" I think there's lots of challenging questions, which employees are going to have to answer, which is, "I'm at a company and I have lots of flexibility, but if I leave that company, I'm going to have less flexibility". Because if you are really flexible, then anywhere you go is going to have a different level of flexibility. And it's the old opportunity cost and trying to pick which ones are the key choices, which could be around salary could be around development, it could be around career growth, it could be around working location could be commuting times, it could be working times in the office. And I think if you're really trying to be a good organisation that's attracting and keeping talent, you need to be making sure that you're appealing to both the people who want the structure and being able to go into the office, but also giving freedom to those whose life over the last 18 months – and it's soon going to be two years – of where they've been spending more time at home. People will still need to go into the office. I think most people will need to do that. But it's how you get them to do that. What requirements and demands do you place on them? One of the things we used to talk about pre-COVID was "never miss an important life event", which meant: make sure that you're at home to see the kids' plays or to have an appointment. We've actually added in "never miss an important work event", which is really a guide to when work events are happening, which are going to be away from your home, it could be off-site or in the office, you need to be participating there as well. Because I think it's this integration, which is going to be really, really important.
Jo Taylor
And I think you're right, there's a number of things that come out to me about the balance between work and life. The last 18 months, it's really become very blended, and people are very reluctant to free that up and have that demarcation again. And it comes back to choice. If you're giving people choices which your work modes seem to do, but you're giving people the ground rules and saying, "look, this is the preferred", then you're allowing people to be themselves and it comes back to what you've been doing, which is the science: which has been all of the engagement, the way you've applied it has been the art, but you've put the people first at the end of the day, but you've realised that the business still needs to be a business,
Cat Lewis
When we've designed these, the whole approach was very similar to the way that we make our technology. So we have one of the people that was leading this was actually our head of product at the time as well. And she has a design background. And just that whole thinking – so even when we put the work modes in place, we did user testing with it. So having a small group of employees try it first, look at it, look at the offices that we've rebuilt and had them go in for two weeks before the whole user base employees went in. But the whole process that goes towards building our technology, we think of our office as a product that our employees use, the same as people that use our technology. And that thinking can be applied to any project that you want to do. If you think of any aspect of the employee journey and experience as a product that they're using, and you want the user experience to be as friction-free as possible. And also, as tailored to them as possible. People are so used to being able to customise every part of technology that they buy, or anything within their life can be customised to what suits them. So when you just send something now where people only have a binary option, and perhaps it's not something that they can tailor around their personality, lifestyle, all of those different things, it is quite jarring, because everything else is becoming so flexible and so tailored to me: exactly what *I* want. So we're trying as best as we can to mirror that, and mirror the customisation that we have in all of our technology across the whole experience for employees.
Jo Taylor
Brilliant. Well, thank you so much for taking this time to talk to me. I'm really looking forward to hearing more about the way that you launched and how you continue to work with work modes. So how could people hear more about what you're doing? Is there anywhere that you want us to direct our listeners to so they can understand a bit more about work modes?
Cat Lewis
Sure. So if you visit our website, we put some blogs on there where both Rob and I have written about employee experience, recruitment, our challenges and things that we do at RG of our employee initiatives. You can just head on to our blog there and you'll find lots of content from both of us being shared. And to contact Cat and myself, LinkedIn is generally a good place to go. We're both easily findable on there. And just to finish off, our work modes are published on our website. So after you've read the blogs, you can click office modes for each of our office locations. And you can find out how we're doing it in each of the different countries.
Jo Taylor
Thanks, Rob and Cat. It's been an absolute pleasure spending this time with you and you sharing so openly what you've been doing. It sounds fantastic. And I'm really excited to continue to learn from you. And hope everyone's got a load from the podcast. So have a great day, everybody. And thank you again.
Cat Lewis
Thank you.
Rob Hicks
Thanks, Jo.