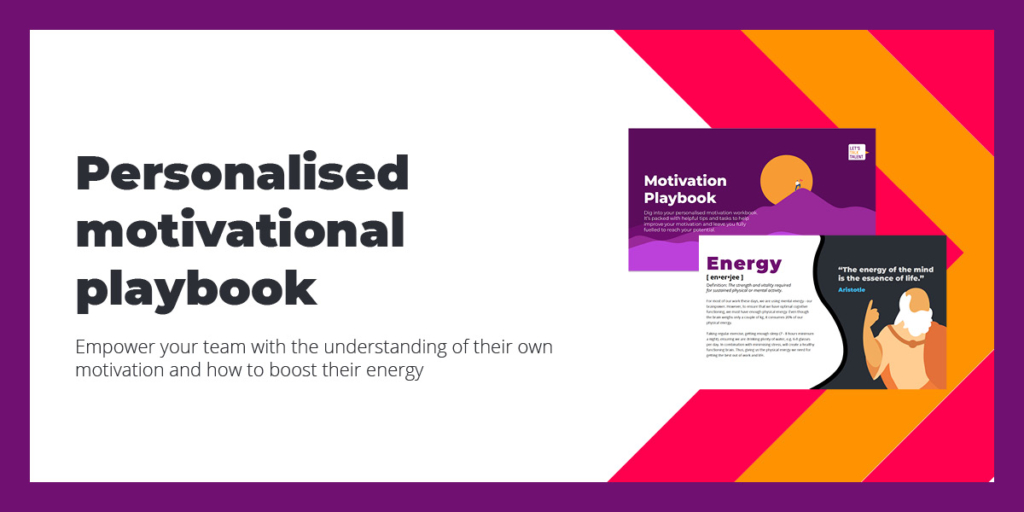 What is the motivation playbook?
The Motivational Playbook is a helpful tool that identifies your current motivation levels and gives you ideas and inspiration to boost it where it's needed – keeping you at your best!
Take a short survey based on your existing energy and motivation levels, and you'll receive a personalised playbook with tools that are tailored to your immediate needs.
We use this tool for individuals as well as teams as part of team development.
Who is it for?
Individuals, teams, and organisations looking to understand their motivational levels
HR teams looking to support people with strategies to increase and optimise their energy levels
What are the benefits of the motivational playbook?
Understand your motivation levels and those of your team/organisation.
Identify the opportunities to increase motivation across all areas for optimum performance.

How much does the motivation playbook cost?
£30 +VAT per person
Deals can be made for groups.
Buy your own Motivation playbook
Buy your own motivation playbook (pay on card at the end of the survey).
Motivation Playbooks cost £30 +VAT per person
Want to get Motivation playbooks for an entire team?
Motivation Playbooks cost £30 +VAT per person (and we do offer deals for larger groups)