The Ultimate List of HR Statistics That HR Directors Should Know in 2024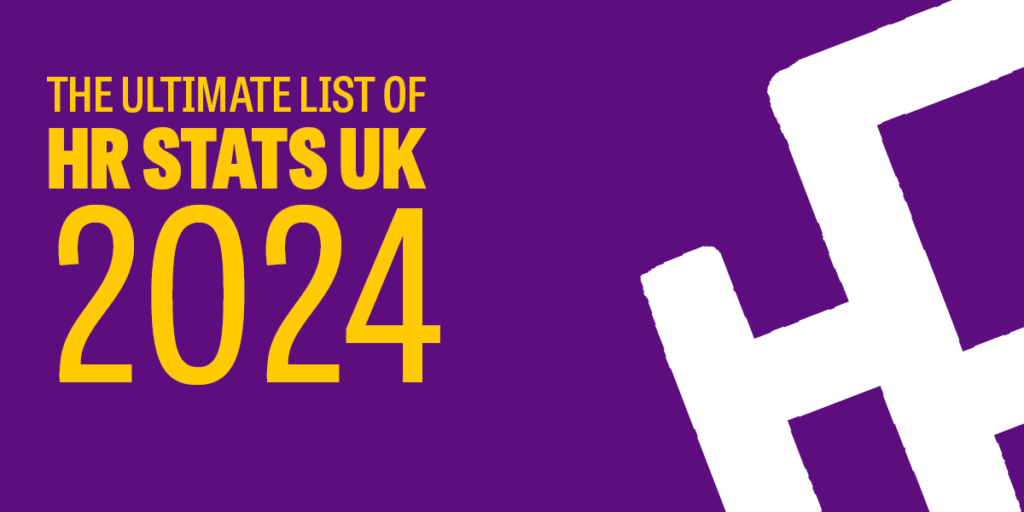 64 statistics every HR professional should know
In order to support their organisation, HR departments and their teams have to anticipate the needs of their workforce, and to pivot quickly in order to answer them. Lately, this hasn't been easy. With the state of the labour market and the HR industry as a whole evolving, we all had to constantly adapt to new parameters. Keeping an eye on the latest trends has become more than a nice-to-have: it is an imperative for HR teams everywhere. But how can we separate trends from the fads?
Let's Talk Talent has put together this handy list of the key UK HR stats, facts and data that every HR professional should know. We hope it helps you design and implement the kind of HR strategy that will truly stand out from the competition and contribute to organisational performance, now and in the future. Here is the ultimate list of UK HR stats for 2024.
In this article, you will discover key stats on:
At first glance: a few key HR trends amongst UK organisations
In response to the tight labour market, organisations are shifting their efforts from attraction to employee retention. This includes increasing L&D budgets, upskilling staff and focussing on employee engagement as well as employee experience.
The higher cost of living has also led to many businesses increasing salaries, but these increases are not keeping up with inflation, which means candidates are still worse off financially.
And when it comes to ED&I, despite recent advancements, companies everywhere still have a long way to go to bridge the gender pay gap, to generate a culture of belonging and to present bias in all their forms.
At first glance: a few key trends amongst candidates
It's worth noting that despite more flexible working arrangements, the working week is getting longer and stress levels are at an all-time high. This is in no small part due to the financial stress brought on by the high cost of living crisis.
While most employees want more flexibility and autonomy, they will still prioritise higher salaries over benefits such as a shorter working week. Levels of engagement are also quite low in the UK, with very few people stating they feel engaged with their work.
Here are some of Jo's favourites:
Flexible working
It seems that no organisation has found the perfect working mode. Flexible working, while an important factor for job satisfaction, remains behind pay, but the importance of the 4-day week is growing.
The average working week is 38.93 hours long, which is 1.83 hours higher than it was back in December 2022. It is even higher for employees of the restaurant and food services, agriculture, construction and the transport industries. [HR metrics survey March 2023, Metrics that impact, HR Ninjas & Elementsuite]

Employees happy with their hybrid work situation were less likely to apply for other jobs. Job seekers' preferences for hybrid or flexible work mean that they will stick around, even through a cooling labour market. [HR Review]

When it comes to HR staff specifically, 14% wanted to switch to a fully remote role. [peoplemanagement.co.uk]

Labour market statistics
It's clear that the UK's labour market is still dealing with a skills shortage. This is often compensated by a reliance on the contractor market. Employees still have the upper hand, and pay seems to be top of mind.
55% of the people listed money as a top priority, followed by improved work-life balance (20%) and increased job security (13%). [peoplemanagement.co.uk]

57% of employers have hard-to-fill vacancies, and 29% anticipate significant problems in filling hard-to-fill vacancies over the next few months. [CIPD]

In order to address hard-to-fill vacancies, 43% of organisations have raised pay. [CIPD]

Time to fill is 38.40 days on average. [HR metrics survey March 2023, Metrics that impact, HR Ninjas & Elementsuite]

Cost of hire has reached £3,798.84 in 2023. Sectors requiring employees with specialised skills, such as the financial sectors, will see a much higher cost of hire. [HR metrics survey March 2023, Metrics that impact, HR Ninjas & Elementsuite]

Although the UK workforce is acutely aware of a potential recession, 75% of workers believe their employment is secure. Despite the volatile environment, many are still looking to move jobs. [HR News]
HR industry statistics
The HR landscape is changing too, and their role is more critical than ever. But HR professionals, while highly sought after, struggle to achieve a good work-life balance.

82% of global leaders agree that the HR function is more critical now than ever. [LinkedIn Learning]

The number of HR professionals has grown by 42% in the past decade, compared to just 10% for the general workforce. [HR Magazine]

Recruitment specialists have been most in demand over the past year. [Forbes]

There are on average 1.54 HR professionals per 100 employees, which is relatively consistent with the conventional wisdom that states there should be 1 HR professional per 75 employees. [HR metrics survey March 2023, Metrics that impact, HR NInja & Elementsuite]

Research shows that nearly all HR professionals (98%) say they feel burned out. 94% have felt overwhelmed over the past six months, while 88% dreaded the prospects of going to work at all. [HR Zone]

Human Resources is the industry most likely to see the biggest movement, as over two thirds (67%) state they would like a new challenge. [London Daily News] Of these, nearly half (48%) mentioned they wanted to make more money while over a quarter (28%) wanted a better work-life balance. [People Management]
Employee engagement
Considering the skills shortage, employee engagement has become a key focus for UK employers. And there is plenty to work on, as the Quiet Quitting phenomenon remains very much alive.

Just 9% of UK workers report feeling enthused by their work and workplace in 2022. Globally, just 21% of employees are engaged at work and 33% are "thriving in their overall wellbeing". [Personnel Today]

Business units with engaged workers have 23% higher profit than those with workers who felt "miserable". [Personnel Today]

28% of companies said the best approach to tackling the current labour shortage crisis is to focus on improving company culture. [HR News]

Onboarding statistics
Onboarding is a key stage within the employee lifecycle, and there is room for improvement as the turnover rate remains high within the first three months of employment.

The average 90-day turnover is 9.09%, which means that nearly 1 in 10 employees leave a job within 90 days of joining. Some sectors see particularly high 90-day turnover rates, such as the hotel, restaurant and food industries, while construction and the public sector show some of the lowest early turnover rates. [HR metrics survey March 2023, Metrics that impact, HR Ninjas & Elementsuite]

A fifth of employees felt misled by their job listing, while a quarter felt let down by poor onboarding experiences. [gethownow.com]

Only 29% of new hires believe they are prepared and supported after the onboarding experience ends. [Axonify]

Learning and development statistics
Employees are actively looking for learning opportunities as they look to unlock future career opportunities for themselves. And there is good news, as organisations are increasing their L&D efforts too.

Nearly half of companies increased their L&D budget in 2022. [gethownow.com]

94% of employees say that they would stay at a company longer if there is investment in their learning and development. [aihr.com]

Research shows that 50% of staff will need to be reskilled by 2025. [aihr.com]

Over 22 million UK workers do not feel equipped with all the skills they will need to unlock new opportunities in the next five years. [aihr.com]

In fact, nearly 50% of staff would switch to a new job if offered upskilling opportunities. [Axonify]

89% of HR professionals agree that proactively building employees skills will help their organisation navigate the future of work. [LinkedIn Learning]

Management was identified as the skill companies need the most at the moment. [LinkedIn Learning]

Globally, providing learning opportunities is the top tool used by organisations to improve retention. [LinkedIn Learning]
Pay & rewards statistics
Organisations are increasing pay, but many workers are yet to feel the effect as only a small amount of current staff have indeed received increases significant enough to combat the high cost of living.

67% of employees want pay transparency. [lattice.com]

This year, expected pay awards have risen to 5% overall, the highest level since CIPD started tracking in 2012. But despite this, pay awards are still struggling to keep up with inflation. In fact, wage data indicates that while average nominal wages have grown, real wage growth is at a decade-long low thanks to sky-high inflation. [HR Review]

Only 22% of the UK workforce received pay raises in 2022 to align with the challenging economic climate. [NR News]

Companies that are effectively using pay programmes report 1.4 times higher employee productivity. [wtwco.com]

Companies that are effectively using pay programmes to drive performance are 1.2 times more likely to outperform their peers. [wtwco.com]
Employee turnover and retention statistics
The current context has led organisations to focus on retaining their talented staff, rather than looking to recruit new personnel.

The average annual turnover rate hovers around 21% in the UK. Again, some sectors such as the restaurant and food services industry are hit with much higher turnover rates, while others enjoy more stability. [HR metrics survey March 2023, Metrics that impact, HR Ninjas & Elementsuite]

Nearly three quarters (71%) of UK workers are going to be looking for a new job this year, and 9% will be hoping to move into an entirely new industry, as revealed by new research. [London Daily]

In order to fight the high turnover rates experienced in many areas and increase retention, organisations identified employee engagement as their number one priority in 2022, with hiring coming in second. [Lattice]
Employee wellbeing statistics
Employees are experiencing high stress levels, even beating stress levels felt at the height of the pandemic. However, organisations investing in mental health do see great returns.

Stress amongst workers reached an all-time high. The world's employees are feeling even more stressed than they did in 2020. [Gallup]

Feelings of loneliness reached a record high in UK adults following the pandemic. [Guider]

41% of UK workers experienced daily stress, higher than other major economies including Germany (40%) and Norway (39%). Globally, this figure was 45%. [Personnel Today]

Financial wellbeing has come to the fore in 2024. Over 53% of workers are worried about paying for the essentials. [HR Zone]

Absenteeism rates are around 5.4%, a sharp increase over the 2021 figure of 3.5%. [HR metrics survey March 2023, Metrics that impact, HR Ninjas & Elementsuite]

Poor mental health costs UK employers £56 billion each year, a 25% increase over pre-pandemic figures. [Guider]

For every pound spent by employers on mental health support, £5.30 is returned through reduced absenteeism, staff turnover, etc. [Guider]
Equality, Diversity & Inclusion (ED&I) statistics
Short version: Organisations still have a long way to go in terms of creating equality and a sense of belonging for all. Whether it's the gender pay gap, lower recruitment rates for ethnic minorities or toxic cultures, many do not feel safe to be themselves at work.

Almost half (47%) of UK employers don't have a D&I strategy in place. [Guider]

When employees trust their employer is committed to ED&I, their engagement can increase by 20%. The likelihood they will leave the organisation can also decrease by 87%. [Guider]

Feeling included in the workplace translates to a 17% increase in team performance. [Guider]

Companies with diverse management teams make on average 19% more in revenue, and 70% more likely to capture new markets. [Guider]
The gender pay gap stats
Unfortunately, the gender pay gap is still significant despite recent efforts in this area. The average wage for women stands around £18.06 per hour, while men earn an average £21.10 per hour, nearly 17% more than their female counterparts. [HR metrics survey March 2023, Metrics that impact, HR Ninjas & Elementsuite]

78% of UK large companies pay men more than women. [Druthers Search]

33% of leaders are women. Only 33% of senior leadership roles are held by women. [Guider]

Ethnic minorities
Only 2.6% of UK tech board members are ethnic minorities. [Druthers Search]

Candidates with Chinese, Indian or Pakistani sounding names are 28% less likely to be invited to an interview than candidates with English-sounding names. [Druthers Search]

The employment rate for ethnic minorities is 62.8%, lower than the 75.6% rate for white workers across the UK. In fact, 79% of HR professionals believe an unconscious bias exists in recruitment and promotion opportunities. [Druthers Search]
Neurodiversity
60% of employers do not know where to go for advice on employing an autistic person. [Druthers Search]

Sexual orientation
Nearly 1 in 10 LGBTQ+ employees have left a job as they didn't feel they were in a welcoming environment. [Druthers Search]

Almost 1 in 5 have been the target of negative comments or conduct from colleagues because they are LGBTQ+. [Guider]

Ageism
10% of women left their jobs due to menopause. Of those who spoke up, 47% said their employer had done nothing to provide support. [Guider]

2 out of 3 workers over 45 have seen or experienced ageism at work. [Guider]
Performance management statistics
Many employers recognise their performance management programs aren't as effective as hoped. But those who use them effectively see great results.

Companies using performance management programmes effectively are more likely to report financially outperforming their industry peers by 1.5 times. [wtwco]

More than nine in ten UK respondents (95%) cited driving organisation performance as a key objective for performance management, yet less than half (45%) said their performance management programme is meeting that objective. [wtwco]

Only 1/3 of organisations believe their programme is effective. Nearly three in four (72%) said supporting the career development of their employees as a primary objective but only a third (32%) said their performance management program was meeting that objective. [wtwco]

44% agree that managers at their organisations are effective at assessing the performance of their direct reports. [wtwco]

One third of employees believe they are fairly evaluated. 1 in 3 organisations indicate their employees feel their performance is evaluated fairly. [wtwco]

Only 14% of employers put performance management models into practice. 14% of employers alter their performance management approach to align with such models. [wtwco]
Sources for HR statistics: