Aligning your L&D strategy to your business goals
Learning and Development (L&D) isn't just a buzzword added on job postings to boost your rewards and benefits package. It's a very real, very powerful attraction and retention lever. Let's face it, salary alone is no longer the main consideration factor when it comes to attracting or retaining the best talent. Businesses worldwide are having to put their best foot forward to present current and future employees with great career and development opportunities as part of their basic offering, and L&D is a key part of that offering.
But a good L&D strategy isn't just a recruitment tool: it's a way to future-proof your organisation. It highlights key skills gaps so you can take action and proactively fill them, and can help you improve both individual and organisational performance.
However, your L&D model does require careful planning. It's not just about providing a ton of flashy cool courses on trendy topics. As Jo Taylor, MD at Let's Talk Talent (LTT), likes to say: "It's about resources, not courses." And here, your strategy should be built around one goal: generating high performance for your business.
What is high performance?
According to Forbes, high performance is about consistently meeting goals, working cohesively as a unit and being engaged in the work. It's about hitting and surpassing targets, and going beyond and above what is expected. High performance requires constantly improving upon current standards, challenging yourself, being engaged and motivated and contributing to reaching organisational goals in a meaningful and valuable way.
So how do you ensure your people have the right skills, capabilities and knowledge to do just that, whilst also feeling motivated to learn and develop with you? "It's fairly simple," says Jo. "You need to use L&D to attack on all fronts."
Performance cannot be achieved in isolation
There are three distinct performance pillars, each of which an essential part of the performance equation:
Individual performance
Team performance
Organisational performance
In order to generate and maintain a culture of high performance in the workplace, your L&D model does need to take all three of these pillars into account.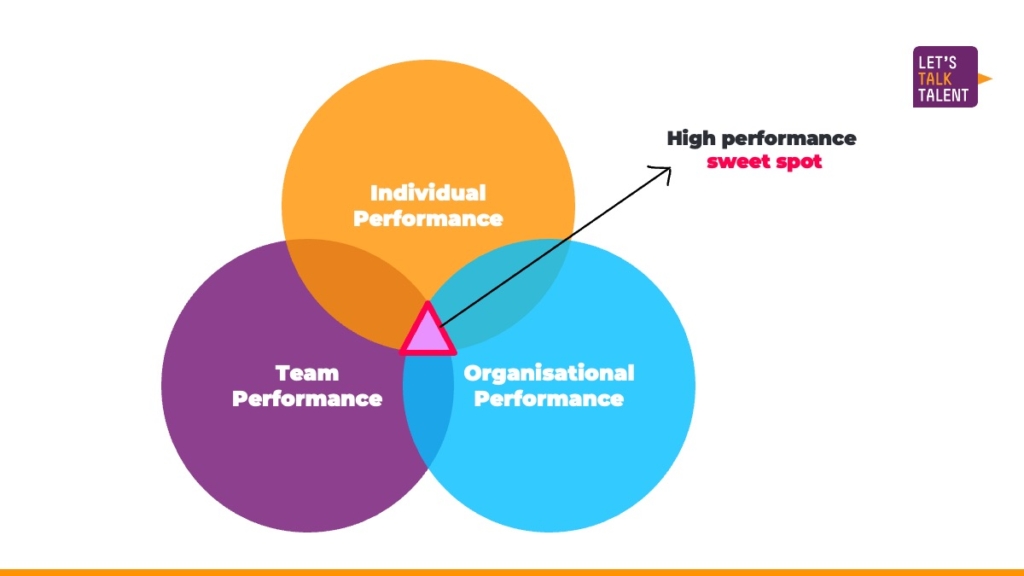 How can L&D be used to generate high performance?
L&D is one of your most powerful assets when it comes to increasing individual, team and organisational performance. However, each of these pillars need to be tackled individually, using specific tactics. Below are our top tips on how to generate high performance in all three areas.
1. Individual performance
To perform, people need to know where they fit in, and have the tools they need at their disposal to increase their contributions to organisational objectives.
A few L&D tools to use to improve individual performance:
Continuous developmental feedback to help staff identify their skill gaps and ways to remedy them.
A performance management process that includes clearly defined objectives and regular career discussions.
Defined L&D pathways (featuring specific courses and resources) to guide those looking to develop their careers.
Mentoring or shadowing opportunities, or any other ways to help deepen current expertise on the ground.
Networking support.
2. Team performance
Improving team performance should be focused on fostering a culture of trust and collaboration, as well as improving team communication. This requires clearly defined roles, communication channels and accepted behaviours and attitudes.
A few L&D tools to use to improve team performance:
Away days (have a look at our blog on how to create a successful away day for inspiration).
Team building exercises.
Psychometric testing. Here, sharing results could lead to a better understanding of one another, as well as a more effective role distribution based on individual strengths and challenges.
Forums and collaborative tools, such as online groups and sharing platforms.
Reward and recognition. Acknowledging successes will generate motivation and keep energy levels high.
3. Organisational performance
At this stage, improving performance should be about creating the right environment for your people to thrive in, based on your very own organisational context. Here are a few ways to use L&D to achieve this.
A few L&D tools to use to improve organisational performance:
Role modelling the right behaviours. You have to walk the walk and talk the talk if you expect your employees to follow suit and show innovation, courage and dedication. This may require additional training on specific topics that align with your values as an organisation.
Provide soft skills training for your managerial staff. Ensure there is a clear path, with dedicated resources, for managers to hone in their leadership, active listening and emotional intelligence (EQ) skills.
Offer coaching and mentoring for your senior leadership team.
It's important to note that little, incremental changes can make a huge difference in driving high performance. Direct your L&D efforts towards providing resources that will improve small, tangible aspects of your Employee Experience (EE) on a daily basis and watch high performance set in, one improvement at a time.
L&D is about giving your people the right skills and knowledge to strive for more and perform at a higher level. Whilst individuals should remain accountable for their own development, they will require support from the team, their managers and the organisation to get there. Make sure you have resources in place to guide them, without necessarily taking over. Once they feel safe to grow and innovate, you'll get to watch them stretch themselves beyond their current capabilities and add tangible value to the organisation knowing you've achieved all this thanks to your very own L&D efforts.
If you'd like to chat about your L&D strategy and how you could better answer the needs of both your learners and your business, book a meeting to discuss your needs with our team.
Or download our latest whitepaper on learning and development.
Related Learning & Development resources that you might find useful: