Let's Talk Talent recently partnered with King's College London on a new approach to career pathways. Here, Lorraine Kelly, Deputy Director of Organisational Development, talks to Let's Talk Talent about the project and what it means for employees.
Part of my role as Deputy Director of Organisational Development is taking the strategic lead for employee engagement and well-being strategies at the college. My focus lately has been on developing career pathways for our professional services teams which is aligned to our goals for 2019.
What's it like to work at King's College?
My team supports the professional services function of the college which spans 13 divisions and 2,500 job titles. In academic roles at King's, career pathways are straightforward but in professional services, although the college is passionate about its professional services employees, there has been less clarity about career choices.
Although we have some resources and courses, I felt there was a gap in terms of career pathways that are simple but at the same time allow for all sorts of career journeys – not just a linear progression to the top.
The project we worked on with Let's Talk Talent, My Journey @ King's, is a new of thinking about career pathways and one which we believe will improve talent attraction, retention and development at King's College.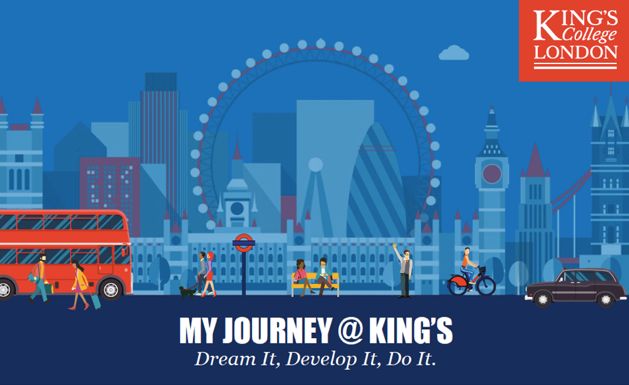 Your Journey @ King's: Dream It, Develop it, Do It
Key elements of the project are:
Career pathways maps & handbook which are interactive and available online. Colleagues can work through coaching questions and prompts to think about their career.
A branded online career navigator illustrates our London heritage but it's not hierarchical; it's a network with alternative routes. We want to use this to join the dots and democratise development and show this is not just for people who want to become leaders.
Because the pathway map, handbook and other materials are online we have been able to include a variety of learning formats such as podcasts as people learn in different ways.
We have some exciting career stories to share. An important part of illustrating career paths is looking at what career experiences are available at King's.
How to take a fresh approach to career pathways
Define the career framework. The basis of the LTT career framework is our STAR model in which we define every role's 'North Star'. This enables us to dig deep into interactions, skills, behaviours and development opportunities within roles.
Create internal talent maps which boost the opportunities for people to move cross functionally and enable employees can have better development conversations.
Upskill managers. As we discovered with King's College, managers need to have the skill, will and confidence to have conversations about development and career progression. This is why we based the philosophy on "being led by me, supported by my manager, backed by the organisation".
Support a shift in mindset about careers amongst employees and managers. Development is not restricted only to taking a qualification and may include stretch assignments, skills building, working in a large team, building relationships or gathering new experiences.
Working with Let's Talk Talent
Everything we have worked on with Jo and the team is clean, fresh and slick. We have a beautiful creative design for our online pathways map and handbook which is a new look for King's. It's authentically 'King's' in terms of our language and culture but it's also new and different and Jo has worked with me to strike the balance between authenticity and creativity.
Jo's wealth of experience helped us to position this project in exactly the right way to the college. Jo is so energetic; it was easy for us to get excited about creating something we are proud of and that will get our colleagues excited too.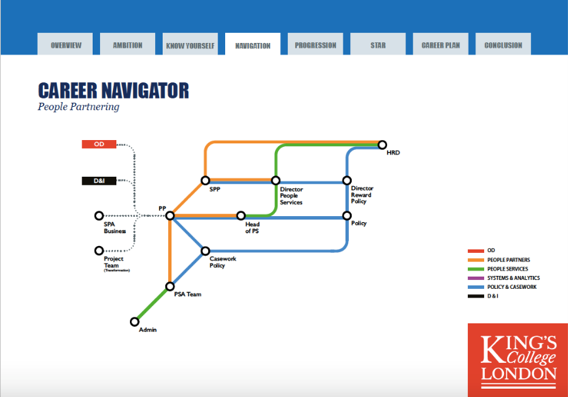 The journey ahead
I'm excited about launching the project team by team. Feedback from the HR team is already hugely positive and we're now creating career maps for the research function with a goal of launching to them later this year. My Journey @ King's mirrors the uniqueness of the college and I'm looking forward to seeing where the journey takes us.
To find out more about how Let's Talk Talent helps companies shape their HR vision and strategy please contact us.