We're a Winner in the British Training Awards 2023!
We're delighted to announce that we've been named a Winner in the British Training Awards 2023.
We were chosen by the judging panel as Innovation of the Year for our free WhatsApp courses that we run for the HR community!
Let's Talk Talent's founder and managing director Jo Taylor also won Consultancy Leader of the year earlier in the year in recognition of her work helping educate and support the wider HR industry.
At Let's Talk Talent we offer 2 free webinars and a free course over on WhatsApp each month. We run a 6 month pro-bono mentoring programme twice a year. As well as a wide range of whitepapers, checklists and other resources for HR professionals.
Here's a photo from the day of Jo receiving her award.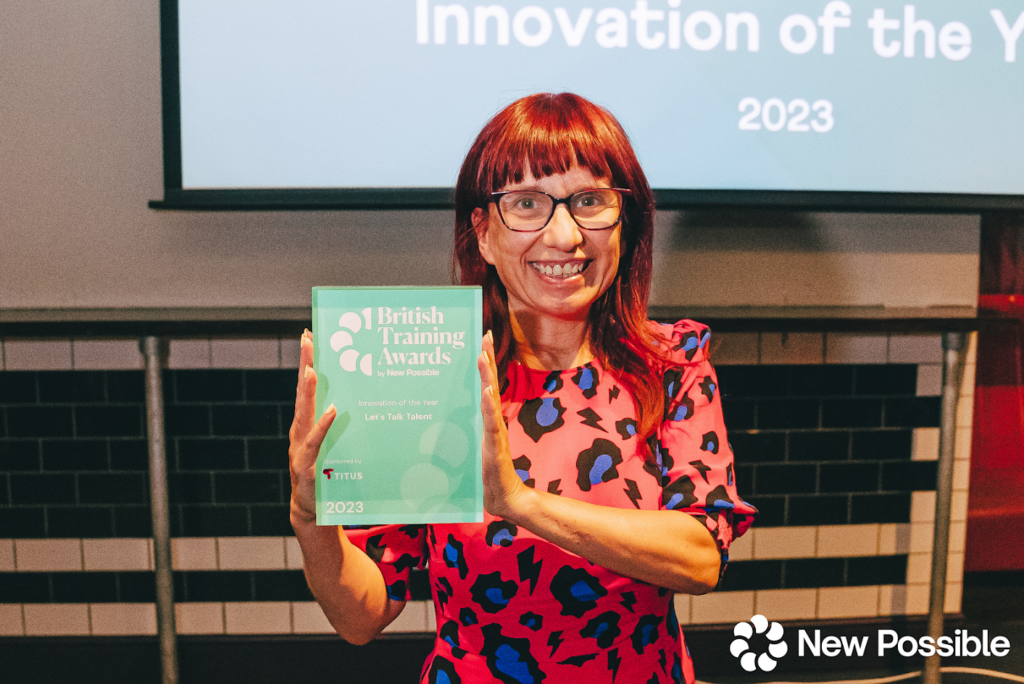 Examples of some of our other resources
The British Training Awards is an annual campaign that sets out to discover and celebrate the individuals and teams that are truly passionate about L&Ds role in building a thriving workforce.
This year, just over 160 entries were received from organisations across the UK, and so competition to be named a Winner proved to be very tough. Firms taking part ranged from start-up innovators to public sector heroes, tech superstars, global titans and everything in between.
Winners were revealed at a special celebration event in London, hosted by comedian Sally-Anne Hayward. Categories included sector specific awards such as 'Financial Services Initiative of the Year' and 'Hospitality & Leisure Initiative of the Year' as well as overall awards including 'Training Initiative of the Year' and 'Leadership Development Initiative of the Year'. 'Leader of the Year' and 'Rising Star of the Year' were also keenly contested.
The British Training Awards 2023 judges include:
Lee Chambers, Director and Chief Psychologist, Essentialise Workplace Wellbeing
Simon Gibson, Group Head of Learning & Development, Marks & Spencer
Keith McDougall, Director of Learning & Development, Deliveroo
Gemma Paterson, Head of People Development Experiences and Innovation, Legal & General
Prachi Prasad, Global Head of Learning & Development, dunnhumby
Karen Wilson, Global Director of Talent Development, Booking.com
Nate Harwood, Founder, New Possible
"This means the world to us, but it wouldn't have been possible without our amazing team and partners. They're the real stars who have been with us on this journey, and we're beyond grateful for their support." Said Jo Taylor on receiving the award.
Nate Harwood, Founder of New Possible and British Training Awards judge said: "The British Training Awards celebrate the inspirational teams and individuals whose transformational approaches to L&D are unlocking the potential of workforces across the UK and beyond. A huge congratulations to all the Winners and Finalists."
The British Training Awards is powered by New Possible, the employee insight platform that's helping leaders to unlock the competitive advantage of their people and build healthier businesses.