A client case study in welcoming new starters with positive, consistent, and effective onboarding tools
At Let's Talk Talent (LTT), we believe onboarding is one of the most important retention levers in an organisation's arsenal.
It's no secret that a large percentage of employees make a decision to leave their new job before they've even completed their onboarding. And after putting so much effort into attracting high-level candidates with a kickass Employee Value Proposition (EVP), losing staff so early in the employee journey greatly impacts recruitment costs and, ultimately, your bottom line.
If you're seeing this happen in your organisation (or if you want to avoid it happening altogether), it may be time to take a closer look at your onboarding experience.
That's where the onboarding audit comes in.
Creating an exceptional onboarding experience: the challenge faced by global organisations
One international charity client approached us to ensure their onboarding experience was not only up to par, but exceptional. For a complex organisation, coming up with a smooth, consistent onboarding process that leaves recruits feeling excited and motivated about things to come is no small feat.
But where do you even start when you have a global organisation with hundreds of locations and offices, different cultures, departments and ways of working? By identifying and addressing the big exam question.
This is the one issue that, if resolved, will have the biggest impact on the organisation's early retention rates. Here's how we've done it for this client.
How we benchmark onboarding programmes: the 5Cs
At LTT, we like to put onboarding programmes through the acid test: the tried-and-tested 5Cs.
The 5Cs are the guiding principles behind any great onboarding initiative. They list the key elements that should form part of any employee's pre- and early life experiences as they begin working with you.
They are:
Compliance
The mandatory training & legal requirements.
Culture
The internal culture of the organisation, and whether the promises made by the business match up with the reality of working there.
Clarification
The information new starters will need to navigate their new role effectively.
Connection
The opportunities to connect with others in the business, both formal and informal.
Care
The golden thread that must run through everything. This is about demonstrating the importance of people, and showing recruits that they are a valued part of the organisation.
The 5Cs, whilst all important, don't necessarily carry the same weight. In our view, they can be ranked in the following order of importance: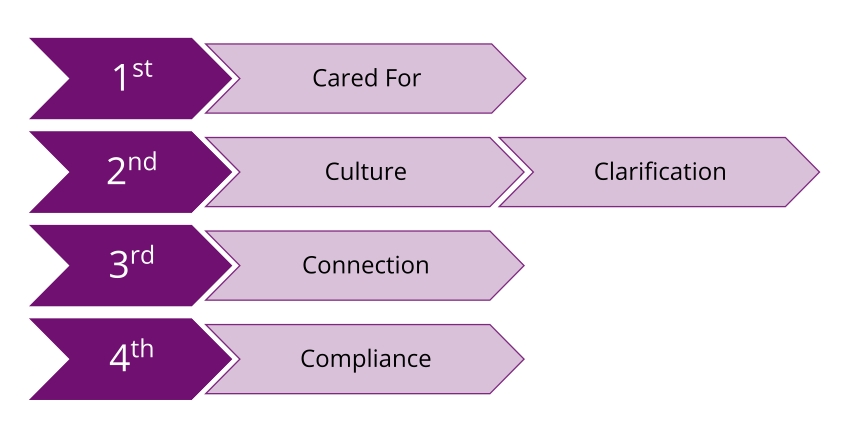 The onboarding audit as a starting point
Now, with such a big challenge at hand, we like to start by getting a clear view of the issues at play. With our international charity client, we also wanted to generate engagement amongst our stakeholders, giving people the opportunity to input into our final recommendations, and ensure they bought into the project.
Considering this was a complex organisation, we went big! We deployed an 8-week-long, in-depth audit phase during which we reviewed all the documentation, systems, and teams involved in the company's onboarding processes.
The objective was to gather as much qualitative and quantitative data as possible, which was achieved through a series of interviews and focus groups conducted with a cross-section of the company.
A survey was also implemented across the entire business to improve our understanding of the employee experience, and give everyone a chance to provide feedback on how to propel the onboarding programme forward.
Presenting key findings: establishing onboarding priorities
So. what came out of our audit?
The organisation hadn't been idle and put a great deal of effort into the onboarding phase. A wealth of content was available but, whilst this was extremely positive, there was also a lack of direction and no clear owner for this stage of employees' lives, leading to an inconsistent onboarding experience throughout the company's locations.
The findings also showed that the fifth element of the 5Cs was lacking, and the business needed to put care back into its onboarding process.
What's the most effective way to demonstrate care and make recruits feel valued? Through their managers!
Here, we were lucky: most managers were highly enthusiastic and raring to go. All that was needed was some clear guidance and the right tools for them to create a consistent journey for staff across the many locations and teams.
Equipping managers with the right tools was going to be our main focus, but some additional recommendations also came out of our fact-finding mission:
1. Educating managers on how to onboard new starters
We identified that manager training needed to be a key focus in order for onboarding to work and for early retention rates to go up.
When surveyed, managers were not aware of all the resources available for their team members, or didn't know where to find all the information. In short, they were not equipped to provide their new people with all the support they required.
It's important to mention that onboarding managers is often an area that is overlooked by businesses. However, manager training is crucial, whether they are new hires themselves or have been in the business for a while and are moving into a new role.
Providing them with a thorough understanding of how things work and what is expected of them will not only ensure higher retention rates among this key demographic, but it will also trickle down to their team members.
Whilst we cannot train someone to be a great manager (find out why by reading our article on whether leaders are born or made), we did help to provide consistency, clarity, and care from the outset: something we called Train the Trainer. This was delivered as a training course aimed at onboarding managers… on how to onboard new joiners!
2. Taking action from before Day 1
It was important for us to embed the idea that onboarding begins before Day 1.
No matter how great an organisation is, arriving on your first day unsure of where to go or who to meet, without any of the materials you need to get started at your desk or the necessary system access, is bound to leave a negative impression.
This could be hard to recover from, and had to be addressed.
3. Considering the new hybrid reality
The organisation also needed ways to ensure the entire onboarding programme was designed with the new hybrid reality in mind.
Whilst we all rely heavily on technology as part of our work, the first few months of an employee's lifecycle are crucial, and a sense of connection and belonging doesn't happen from behind a screen.
We therefore set about finding innovative ways for managers to make new remote staff feel welcome as an integral part of the team.
4. Providing consistency across the organisation
We found new ways to help clarify and simplify the process, so the organisation could provide a consistent experience for all its new joiners.
This included creating a dedicated owner for the induction stage, as well as frameworks, guidance, training, and monitoring.
However, we also wanted to allow each country, culture, or department to have a bit of flex so they could add their own flavour to the process and personalise it to each recruit.
5. A blended learning and development (L&D) offering
The learning materials provided for new joiners needed to be suitable for a wide range of learning styles.
We recommended creating learning solutions using different media and formats to engage staff, including a culture book, some videos, success stories, and a learning hub to house all induction materials.
Creating exceptional onboarding experiences
No matter the size of your organisation, the industry it operates in, or its level of complexity, there are basic principles that can be followed to ensure your people's experience is a memorable one.
"Your onboarding should feel like a warm hug," says Jo Taylor, MD at LTT.
Don't forget to put care at the core of everything you do. Whilst compliance, clarification, connection, and culture are also key components of this stage of the employee lifecycle, care is the golden thread.
It should be felt throughout every touchpoint, whether employees are taking up a new internal role or joining you from elsewhere.
Ask yourself: how can I make sure people feel reassured they have made the right choice, and are excited about the future?
---
If you think an onboarding audit could help you optimise your people's early life experiences within your business, don't hesitate to book a call with us. Alternatively, visit our Onboarding services page for lots of free resources, including our onboarding checklist.