Which workplace personality assessment should you roll out and when
At Let's Talk Talent, we are proud of our unique approach to talent management. Over the years, we have developed and perfected our own recipe, a blend of science, art and humanity, which gives us a way to reach people's hearts, heads and hands all at once. The first part of this equation (the science part), focuses on gathering and analysing reliable insights that will inform our next course of action, while the arts and humanity are all about remaining fluid and giving people the tools they need, at the right time, throughout the various stages of their careers.
To collect data, we use a full arsenal of assessment and personality tools, from the tried-and-tested Myers-Briggs type of classics, all the way to the fun and innovative 'Which animal are you at work' pop quizzes. Each of them can be quite useful (yes, even the animal quizzes, given the right circumstances), depending on the situation.
Over the years, the Let's Talk Talent team has tested quite a few tools and established a shortlist based on how easy they are to use, how long they take to complete, how much they cost and how effective they are. We are happy to share the list of our all-time favourites, with a few tips on when they should be used.
Why use assessment tools
Everyone has their own set of drivers, strengths and challenges. Managers, on the other hand, have the tough (and exciting!) job of creating cohesive teams that utilise these strengths, foster collaboration and generate high performance. This is already a difficult task; now imagine doing it while flying blind!
For teams to function well and to communicate effectively, its members have to first get to know themselves, and each other. Doing so often requires a common basis or language, so that everyone can understand where they fit in within the team's ecosystem. That's where assessment tools come in.
The best assessment tools to use
We've asked our expert team to identify their favourite assessment tools. Here's what they've come up with.
The GC Index
The GC Index is designed to measure and evaluate an individual's preferred leadership and impact style within an organisation, and helps identify how someone can contribute effectively by splitting participants into five key roles.
360 feedback
Requesting feedback from colleagues, managers and other stakeholders allows individuals to understand how their performance and contribution is viewed by others.
Voiceprint
A different type of assessment, the Voiceprint tool analyses the voices we use in order to optimise our internal and external communication styles.
This behavioural self-assessment tool identifies the main personality styles, and groups them based on how much of the following traits they exhibit: dominance, inducement, submission and compliance.
16 personalities
16 personalities is a framework which provides insights into "(…) how a person makes decisions, interacts with other people, and processes information."
MBTI
A well-known classic, the Myers-Briggs Personality Type Indicator was designed to comprehensively map out a person's personality type, their strengths and their drivers.
Using a few targeted questions, this tool uncovers a person's top five unique strengths.
Hogan
The Hogan assessment focuses on exploring how we relate to others, particularly when we are at our best.
Motivational Maps®
Motivation is one of the most difficult things to maintain within a team. Motivational Maps® look at a person's key motivators, as well as at how these compare with the rest of the unit.
The best assessment tools to use for an away day
Before selecting a tool, it's important to determine the changes you are hoping to see by the end of your away day. Do you need to clarify roles and responsibilities? To generate energy and motivation? For team members to get to know each other? Depending on the answer, it could be that one tool will be more suited to the task than the others. However, here are some that have proven effective before and during team away days organised by the Let's Talk Talent team.
For some more tips on what to know before organising an away day, read our article.
Both the GC Index and DISC allow organisers to better understand an individual's natural roles and contribution to the organisation. By understanding each of their members' unique profile, teams are better equipped to harness their collective strengths, and to foster better communication and collaboration.
The 16 personalities assessment also encourages empathy and generates appreciation for diverse perspectives, which does lead to a positive and inclusive team culture. In a similar way, the High5 Strengths tool empowers team members to embrace their individual strengths and to try and complement one another, ultimately becoming more resilient and adaptable.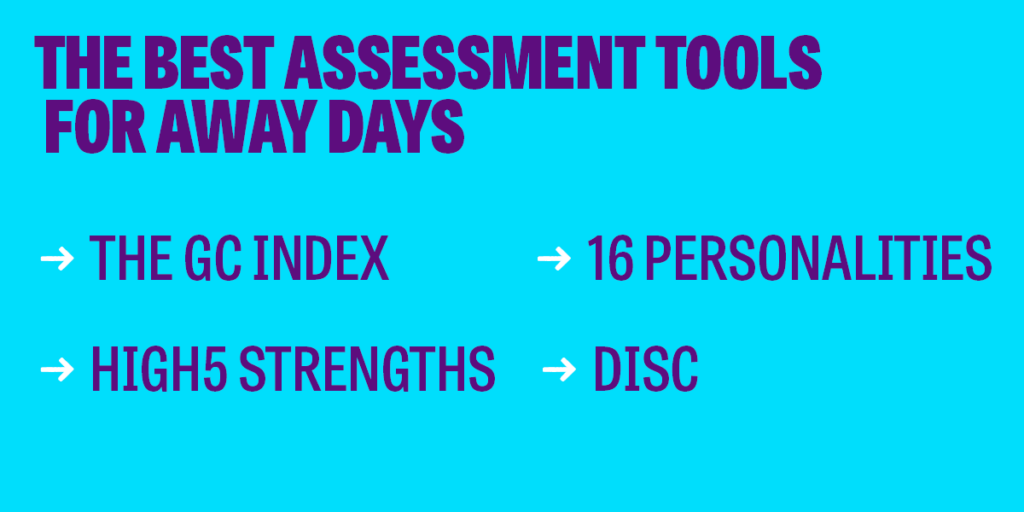 Best assessment tools to use for career conversations
Here, your focus should be on giving developmental feedback, and showing employees the art of the possible. 360 feedback will be a crucial way to do this, allowing staff to understand themselves better and to gain a new perspective on their strengths and challenges. This could even help them uncover career options which hadn't been considered before. People hoping to progress in their career by developing their communication and listening skills should have a look at Voiceprint.

Motivational Maps® can delve into an individual's key drivers. Understanding someone's motivations will allow managers to support employees in a more targeted and effective way, guiding them so they can align their aspirations with suitable roles within the organisation. Lastly, the GC Index is an exceptional tool for career conversations. Its focus is on people's preferred ways of contributing to the organisation, rather than skills and competencies alone.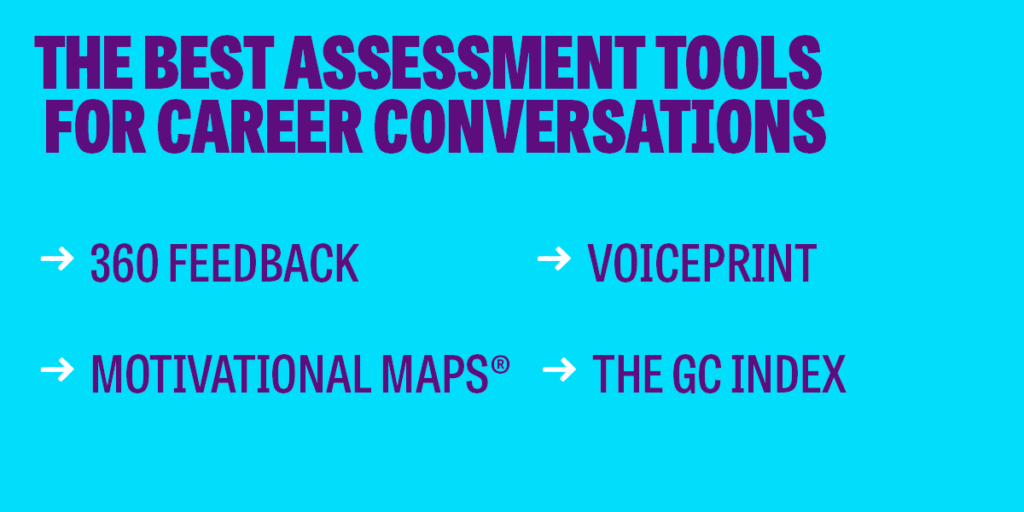 Best assessment tools to use for team development
As they encourage self-awareness, most workplace personality assessments do generate good results when it comes to facilitating team development. However, a few of them stand out from the rest.
By highlighting dominant traits and communication styles, the DISC assessment allows individuals to gain insight into their behaviours and preferences. Better self-awareness does accelerate team development, and ensures staff can appreciate and utilise the diversity within their team. 16 personalities works very much the same way, although its focus is on pinpointing everyone's working style. Its main benefit is in supporting team leaders as they tailor their strategies in a way which optimises team synergy and productivity.
Finding out why people respond in different ways to certain situations can also lead to better understanding and a more inclusive culture, hence the LTT team putting the MTBI tool at the top of its assessment list. The same can be said of Motivational Maps®, which surface individuals' key drivers, allowing leaders to adapt their approach and foster a more cohesive and productive team, ultimately leading to high performance.
If you'd like to learn more about team development, have a look at our blog series on the forming, storming, norming and performing stages of team development.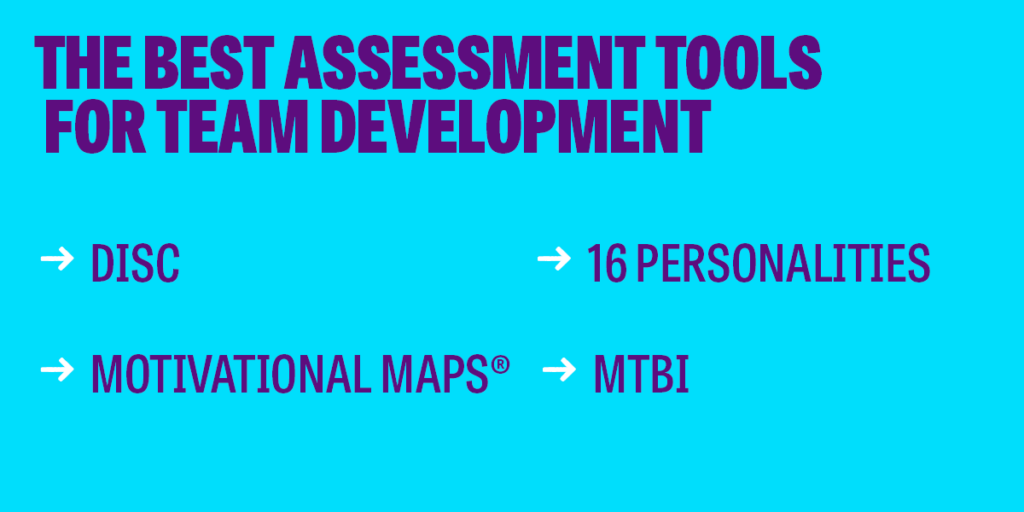 Best assessment tools to use for succession planning
When it comes to selecting successors for key roles across the business, assessments can be a great asset. They let organisations align the right people to the right positions based on their strengths, drivers and natural preferences. The GC Index in particular can yield valuable insights that will enable decision-makers to make informed choices as they identify high-potential candidates. Hogan, on the other hand, is predominantly a leadership assessment and looks at creating the right mix across leadership teams. It is also regularly used to inform coaching sessions.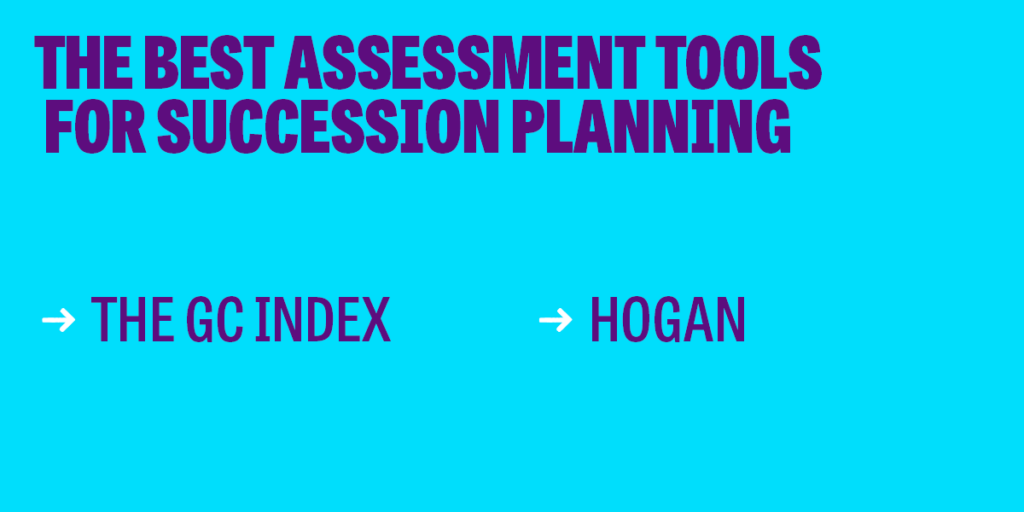 If you have a project which requires the use of workplace personality assessments, or if you'd like to organise an out-of-this-world team away day, do not hesitate to book a call with us. Alternatively, visit our performance management, leadership assessment or team development service pages on our website for plenty of kickass, free resources.